Many of us are familiar with the idea of measurement improving outcome. Whether it's Karl Pearson's Law: "That which is measured improves" or the concept of losing weight by counting calories, we understand that measuring results is crucial to understanding how to improve results.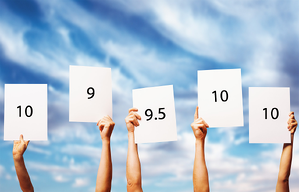 But it's not just the act of measuring – it's measuring the RIGHT things and then utilizing what was learned from the results. When trying to improve the performance and evaluation of your team or team members, what should be measured (and how) become critical questions.
Professional services organizations are beginning to follow the lead of other industries and explore areas such as Voice of the Customer (VOC), Client Experience Management (CEM), and Enterprise Feedback Management (EFM). And while 86% of organizations across all industries employ some form of customer/client feedback as part of their performance and evaluation strategy, only 5% of professional services firms do so.
If you are planning to implement a feedback process, consider these three key steps to creating an effective performance and evaluation strategy powered by client feedback.
Any measurement strategy should promote desired employee performance.

Therefore, it's important to measure things employees can control or greatly influence. If employees feel they are being held accountable for measurements beyond their sphere of control, they may reject the system, game the system, or lose hope. So when capturing client-centered metrics like feedback, don't focus on the scores provided by clients. If you focus on feedback scores, rather than what employees do with scores, they may avoid feedback in the most critical situations. Instead, measure, monitor, and promote the successes of those who gather the most feedback, maintain the highest response rates, and follow-up most effectively to challenging feedback.



Craft questions that measure improvable actions.

Keep personalities out of your surveys. People don't change quickly or easily. When faced with personal criticism, most people will reject the information. Instead, focus on the processes and practices of delivering the service. Processes are more easily documented, adjusted, and customized to a client.



Measure early, measure often.

Monitoring client expectations-the real source of success as a professional service organization-is just as critical as managing your income statement and balance sheet. You look at your financial reports every month, and carefully track progress over time – but when was the last time you looked at metrics from your clients' perspective? How well are you doing for them? To maximize performance with clients, feedback cannot be a once a year (or once every five years) activity. Track constantly, during projects, when you have time to create better outcomes for your clients.
The most important way to measure staff performance in a professional service firm is from the clients' perspective. It's really the client's perception of reality that matters most. To summarize, to best measure performance and evaluate it from the client's perspective: make it easy and comfortable for the client to offer their feedback, have questions focus how well the process worked for them, and ask them often throughout a project, not just at the end.