Strategy to Success - How the Best Use Benchmarking to Go From Good to Great
Presented by Deltek and Consulting® magazine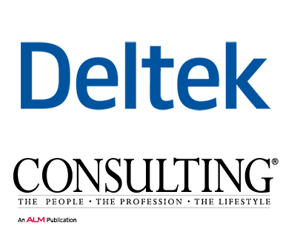 It's no secret that many consulting firms leverage benchmarking to see how their organization's performance measures up. And
while critically important, that's only part of the equation. The other aspect, employed by the profession's very best firms, is applying the metrics that matter to implement action and effect change. These firms go from good to great by bringing a whole new mindset to metrics to take benchmarking to a whole new level. Intrigued? You should be. Too often, consulting firm leaders are too content to sit back and wait for the metrics to matter, treating benchmarking as a passive exercise. While there's nothing inherently wrong with this approach, savvy firm leaders, equipped with the right tools and resources, understand that benchmarking is an active endeavor that can drive results across the entire organization - and right down to the bottom line. This is benchmarking's magic bullet. And, unfortunately, too many firms are misfiring.

To explore this topic, plan now to join us online and uncover answers to such critical questions as:
• How are the best firms using benchmarking to drive change?
• What are the real metrics that matter?
• What role should benchmarking have in your organization?
• Are you using benchmarking to drive success in your firm?
• What steps should you take right now to move from strategy to success?

PLUS - get answers to your own questions by industry experts during the live Q&A session immediately following the presentation.

Hosted by Consulting Publisher and Editor-in-Chief Joe Kornik, this webinar promises a 360-degree view of the topic from industry experts and leading consultancies.

This event is offered free of charge to consulting professionals courtesy of our sponsor, Deltek. We invite you to register and to forward this invitation to others in your organization.
Moderator

Joseph Kornik
Publisher and Editor-in-Chief
Consulting® magazine

As Publisher and Editor-in-Chief of Consulting, Joseph Kornik oversees the editorial operations and overall mission of the publication. He is also responsible for the magazine's Web site and all live and virtual events.
Speakers

Thomas Rodenhauser
General Manager, ALM Intelligence
Managing Director, Advisory Services

Tom has overall business responsibility for ALM Intelligence and Consulting Magazine. He has spent nearly 20 years advising leading management and IT consulting firms on strategic growth, talent management, and market positioning initiatives, as well as analyzed hundreds of consultancies in order to advise clients on best practices in consulting services. As head of ALM Intelligence's Advisory Services and former editor of Consultants News, Tom leverages his own extensive network and industry knowledge with ALM Intelligence's 40-year legacy of highly-referenced consulting industry analysis.

Megan Miller
Senior Product Marketing Specialist
Deltek, Inc.

Megan R. Miller is a senior product marketing specialist with Deltek, Inc. She has more than 10 years of practical experience in the professional services industry, having served as a marketing and business development coordinator for a mid-sized firm. She understands the needs of professional services firms and project-based organizations and actively works to identify and share trends to help firms improve and grow their businesses.
About Deltek
Deltek is the leading global provider of enterprise software and information solutions for government contractors, professional services firms and other project and people-based businesses. For decades, they have delivered actionable insight that empowers customers to unlock their business potential. 20,000 organizations and millions of users in over 80 countries around the world rely on Deltek to research and identify opportunities, win new business, recruit and develop talent, optimize resources, streamline operations and deliver more profitable projects. Deltek - Know more. Do more. ®