Moving Beyond Metrics: Actionable Insight - Strategies, Tools and Technologies for Success
Presented by Deltek and Consulting® magazine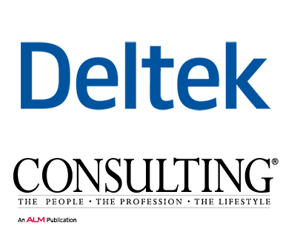 It's no secret that measuring performance is critical to success in any industry—and consulting is no different. We all know the saying: "what gets measured gets done." And tracking the metrics that matter has long been a hot topic in consulting. But perhaps the million-dollar (and maybe billion-dollar?) question is this: "How?" How do you know which metrics matter and how do you monitor and measure them? What practical steps should you be taking now to measure and run your businesses more effectively and profitably?
Some of the profession's elite firms have put in place the right strategies, tools, and technologies to turn data into actionable insight across the entire project life cycle. These firms have cracked the code and are reaping the benefits—from winning new business to managing projects and engagements to delivering value and attracting, retaining and developing talent. How do they do it? And, more importantly, can you?
To explore this topic, plan now to join us online October 3 and uncover answers to such critical questions as:
What are the metrics that matter in consulting today?
How do you monitor and measure the metrics you need to succeed?
How are the profession's top firms moving beyond metrics to actionable insight?
Do you have the strategies and tools in place you need to be effective?
What steps should your firm be taking right now to run your business more profitably?

PLUS—get answers to your own questions by industry experts during the live Q&A session immediately following the presentation.
Hosted by Consulting Publisher and Editor-in-Chief Joe Kornik, this webinar promises a 360-degree view of the topic from industry experts and leading consultancies. This event is offered free of charge to consulting professionals courtesy of our sponsor, Deltek.
Host
Joseph Kornik
Publisher and Editor-in-Chief
Consulting® magazine

As Publisher and Editor-in-Chief of Consulting, Joseph Kornik oversees the editorial operations and overall mission of the publication. He is also responsible for the magazine's Web site and all live and virtual events.
Speakers
Andrew Fairbanks
Delivery Excellence Leader
IBM

Andrew Fairbanks leads Public Sector Delivery for IBM Global Services with more than 3,000 professionals in the areas of Digital Services, Enterprise Applications, Cybersecurity, Cloud, Mobile, Agile Development, and Strategy. Serve clients across all segments of the Public Sector, including Federal, State, Local, Education, and Health Care.
Joe Santucci
Chief Operating Officer
Crowe Horwath

Joe Santucci is the Chief Operating Officer of Crowe Horwath, one of the largest public accounting, consulting and technology firms in the United States. With more than 30 years of professional experience in strategy, operational and information technology consulting, Santucci provides management consulting services to both private and public sector clients. He previously served as the managing principal of Crowe's performance and technology consulting practice.
Liem Vu
Managing Vice President, West Region
Pariveda Solutions

Liem Vu leads the Western Region as the U.S's West Region Managing Vice President. His passion for helping others has been instrumental in building high performance consulting teams, delivering high value solutions to some of the most recognizable companies in industry. He has extensive experience in conceptualizing comprehensive solutions and delivering them to large multi-national companies.
Thomas Rodenhauser
General Manager, ALM Intelligence
Managing Director, Advisory Services

Tom has overall business responsibility for ALM Intelligence and Consulting Magazine. He has spent nearly 20 years advising leading management and IT consulting firms on strategic growth, talent management, and market positioning initiatives, as well as analyzed hundreds of consultancies in order to advise clients on best practices in consulting services. As head of ALM Intelligence's Advisory Services and former editor of Consultants News, Tom leverages his own extensive network and industry knowledge with ALM Intelligence's 40-year legacy of highly-referenced consulting industry analysis.
Laura McQuaid
Director of Product Marketing, Consulting Industry
Deltek, Inc.

For the past twenty years, Laura has been working with professional services organizations to solve critical business issues around project accounting, project and resource management, forecasting & budgeting and business development. She has been helping firms understand trends, best practices and tools that help people and organizations leverage technology to streamline their business and processes.
About Deltek
Deltek is the leading global provider of enterprise software and information solutions for government contractors, professional services firms and other project and people-based businesses. For decades, they have delivered actionable insight that empowers customers to unlock their business potential. 22,000 organizations and millions of users in over 80 countries around the world rely on Deltek to research and identify opportunities, win new business, recruit and develop talent, optimize resources, streamline operations and deliver more profitable projects. Deltek - Know more. Do more. ®