Webinar: The Impact of Social Media Panel
View Full Sail Partners' past webinar on the impact of social media. Examine why social media is the new business develoment and marketing tool for professional services.

Is Social Media a Fad?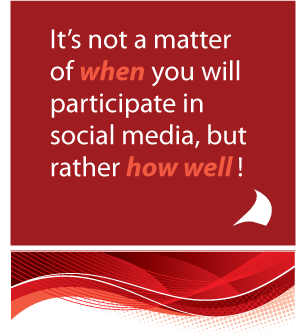 Join our panel of experts as we discuss why social media is the new business development and marketing tool for professional services. The panel will discuss the application of social media, how to leverage it and utilize social media at your firm. Learn from others that have taken the plunge and are already benefiting.
Moderator & Panelist
Moderator: Sarah Gonnella with Full Sail Partners
Sarah is the Director of Marketing and Business Development and CRM consultant for Full Sail Partners. As a part of her job, she oversees the social media aspects of the company. As moderator, Sarah will lead the interactive discussion on the impact of social media and how your firm can leverage this technology to differentiate your firm.
Panelists:
Dar'shun N. Kendrick with Kendrick Law
Legal & Company Policy
Dar'shun provides legal advice in the state of Georgia regarding social media policy and is a member of the Georgia House of Representatives as a State Representative representing DeKalb and Rockdale counties. Her role as a panelist will allow attendees to understand the importance of corporate social media policy.
Sarah Zibanejadrad with Oasis Consulting Services
Marketing Professional in the AEC Industry
Sarah is a marketing professional with Oasis Consulting Services and social media consultant and founding member of Rumor Interactive Media. At her job in the AEC industry, she is actively involved in social media. As a panelist, she will provide answers to questions related to getting started and how to leverage social media at your firm.
Dave Mills with Kittelson & Associates, Inc.
Operations Manager & Social Media Leader
Dave serves as the Operations Manager for Kittelson's Portland, Oregon office, which is comprised of 40 transportation engineering and planning professionals. In addition to his role in Portland, Dave has also been instrumental in building Kittelson's social media approach for the firm, which includes 13 offices and over 140 employees. As a panelist, he will speak to the challenges and opportunities AEC firms face when engaging staff in social media, provide lessons learned, and discuss how technical staff can get involved.
Al Loise with Vayu Media
Social Media Consultant for Professional Services
Al manages business develop and strategy for Vayu Media, an Atlanta based search engine optimization and interactive marketing firm. As a consultant, he provides insight on delivering a positive ROI on marketing strategies. His role on the panel will provide attendees perspective on how professional services industries are utilizing social media and discuss what is on the horizon for this technology.