If your business designs and produces projects for external clients, you're in what is referred to as a project-based firm. This category can include architecture, engineering and construction companies, consulting firms, advertising agencies and many others.
As different as these industries may be from one another, they share a core challenge of completing projects in ways that meet the client's goals within existing constraints, while at the same time, delivering the desired profitability to their organizations.
There are many tools and methodologies that can help project managers at project-based firms track how successfully they deliver projects. But before managers can benefit from such tools and methodologies, it's essential for them to understand four basic project management concepts, and how they interrelate.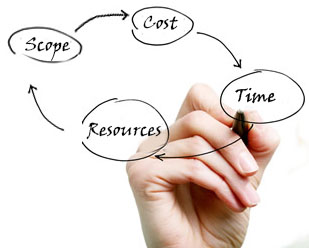 1. Resources – The most critical resources that your organization manages are its human capital, which, depending on your needs and preferences, you might track as individuals, teams or both. Resources can also include equipment, services, supplies, and funds. A central goal in managing resources is ensuring the suitability of the specific resources, as well as availability, internal costs, etc.
2. Time – Managing time involves organizing and tracking tasks, activities, and schedules. It's critical in helping to establish a workable plan and schedule, monitoring and reporting on progress, and ultimately, ensuring the profitability of the project. Key aspects include defining and sequencing activities, estimating needed resources and time requirements, and developing and managing to a defined schedule.
3. Cost – Effective cost management begins before the project even gets underway, by planning a budget with as much accuracy and specificity as possible. Cost management also requires developing contingencies for costs that are anticipated, but cannot yet be quantified with certainty. As the project moves forward, the manager tracks estimated vs. actual costs and the overall profitability of the project.
4. Scope – Managing a project's scope begins with assessing its size, complexity, goals, and requirements. By having a clear understanding of the scope, the project manager is better able to create a viable estimate and schedule, assemble the appropriate resources, and ensure that the team meets its deadlines. Without a good handle on scope, the project can experience scope creep, which can lead to missed deadlines, cost overruns, and decreased profitability.
Taking a holistic view
It's important to appreciate how each of these project management concepts affects, and is affected by, the others. The skillful project manager addresses them holistically, and makes adjustments in each as the project moves forward. To manage risk and ensure a quality project, managers need to not only understand these concepts, but also have in place the right tools and processes to control them — along with great organization and communication skills.
Of course, it's the rare project that goes exactly according to plan… which is why understanding these four project management concepts is so essential. When variances or setbacks arise in any one area, the effective project manager has mechanisms in place to recognize problems in time to make adjustments, and yet still meet the project goals for both the client and the firm.