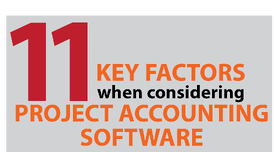 How do you know when to move to a Project Accounting Software? There are many factors to consider in your decision. Although you may have looked at Deltek Vision in the past, you might be surprised at all of its new capabilities. Not to mention Deltek Vision's cloud pricing and out of box options can't be beat by any of its competitors. Outlined below are eleven important items to think about when looking at new project accounting software for your business.
1) Work Breakdown Structure
Project accounting software becomes a must have for firms that want to track detailed information around deliverables. How do you know if it is right for your firm? Your firm may need the ability to:
Break down a project into manageable work elements by separating out the deliverables for the project
Identify start and end time of each deliverable
Define the overall budget for the deliverables as well as the entire project
Attach key persons to the project for reporting
Set-up work breakdown structures to show effort required to achieve an objective
By having the right software for your firm, you gain the ability to track detailed cost estimating and provide guidance for future development and controls. The ability to break a project into manageable work elements, and track the elements, allows firms to better estimate future projects while maintaining the projects that exist today.
2) Accrual and Cash Capabilities
Many firms want the ability to run cash books alongside the accrual books to get the most accurate view of where the business stands with income and debts. Income and expense tracking is integral to a project accounting software. While cash basis may give you a better idea of where the firm stands with actual cash, the accrual method can show the ebb and flow of the overall business income and debts for the most accurate view of the overall organization and long term profitability.
3) Robust Reporting
To get the most out of your software, you need the ability to report on the data for your firm. Your software should be able to pull the data you have entered to allow you to analyze the overall business performance, and plan for future engagements (with data to back your decisions). Reporting should have the capability and flexibility of pulling the data you need without requiring customization from a programmer, and should be visible to key players in the firm.
4) Mobile Access
If you have employees that work in the field, and have little access to computers, you may want to be able to give them access through non-traditional means. Mobile access becomes valuable, and keeps data flowing in the system to quickly and accurately maintain the data in the system on a real-time basis. Access via Touch Time, Touch Expense, Touch CRM, and Navigator are available with Vision and they allow remote employees to enter their time and expense data right from their phone or tablet rather than having to get on a computer and access the system directly.
5) Flexibility
What core modules are available to you when you purchase? Do you have the flexibility to configure the software for your needs? Do you need User Defined fields for tracking? Are you currently tracking outside information in excel? Vision allows the flexibility to add new fields for tracking and to create fields directly in the software to pull data in from outside sources such as Excel.
The advantage of Vision as a high end solution is the flexibility to configure for company specific processes and exact business processes, pulling all data into the system without the need for multiple solutions.
6) Automation
Workflows, streamline processes…A good project accounting software will give you the ability to automate many of the processes and functions on a daily, weekly, monthly, or as needed basis. Vision has the ability to create workflows directly through the front end to send emails, alerts, update fields, and run processes or reports automatically. In addition, stored procedures can be customized to automate non-standard processes on the back-end.
7) Real-Time Data
Project Managers need to plan, manage, and monitor their projects. Without real time data Project Managers are not getting the data they need to manage their projects. Real-time data allows your marketing team to accurately evaluate business development efforts to ensure the firm is pursuing the right kind of work by measuring marketing effectiveness.
8) Audit Trail
Many firms require modifications that fit their project-based firm. In QuickBooks and other software, excel workarounds with manual manipulation are required outside of the software. This can impact the firm's audit trail. Vision has the capability of running reports for changes made in key records as well as the ability to see the financial audit trail, which is important for the firm to be compliant for GAAP, IFRS/FASB, or any other requirements.
9) Security
Security is one of the most important features of a program because it either allows, or restricts, employees from seeing sensitive information such as costs or other employee sensitive information. Your firm will need to be able to provide access to the system for many roles in the company to work holistically with the organization's needs. Without this ability there is no visibility, and management of the system and processes becomes very difficult. It is important for all players to have access to the information they require to manage their duties and keep the business running smoothly.
10) Low IT Maintenance
Cloud based software is a new industry buzzword. The reason for this is that by having your software on the cloud it is maintained by the hosting agency and updated following the testing of new versions and updates. Without requiring an internal IT team to manage Vision, your team is freed up to do more important business tasks.
11) Integration
Many firms have data silos with disparate systems. This separation between team members can increase inefficiencies and keep the firm from reporting on one truth for the company. Since Deltek Vision's cloud software comes bundled with 5 Customer Relationship Management, Custom Proposals, SF330 License and Resource Planning license, firms can work as a team and build upon each other's data to gain a holistic view of the company and processes.
Best Project-based ERP Software for SMBs
If it's been a year or two or even more since you've looked at Deltek Vision. It's time to talk to a partner like Full Sail Partners to see why SMBs are turning to Deltek Vision's cloud option. Even if you're a 10-person firm, Deltek Vision is the best project accounting software for project-based firms because of its flexibility and economical price.