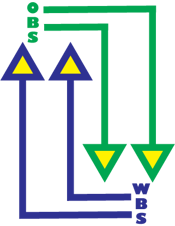 As Deltek Vision systems are implemented and processes are written, the common denominator is most often the connection between the Organizational Breakdown Structure (OBS) and the Work Breakdown Structure (WBS). Whether it be the uniqueness of each or the relationship between the two, the attention paid to these early stages of development is instrumental in the flow and reporting of information in your Vision database. In the following, we'll explore some areas to consider when designing the structure of your database.
Company Structure and the Organizational Breakdown Structure in Deltek Vision
The OBS can take on many different builds from the very simple to extremely detailed. Various example options include:
Location approach
Discipline/department approach
Market sector BD driven
When designing the OBS in Deltek Vision, the system allows for up to five hierarchical levels and allocation of overhead requirements to be incorporated into the structure of the database. If you are using a multi-company database, then level one needs to be reserved for the different companies in your enterprise. Learn more about Vision Multi-Company in this article.
Additionally, when building the OBS it is most important to be aware of financial accountability in your organization. For example, if you are using two levels, such as office and department, each combination will produce an income statement. As a result, someone within the organization is responsible for these statements.
Furthermore, various cross sections can be extracted for combined financial reporting. For instance, if you have mechanical department in three offices, firms can create a mechanical income statement. A structure such as this allows for:
Office accountability
Office/Department accountability
Overall Department accountability
Projects and the Work Breakdown Structure in Deltek Vision
The WBS specifically relates to how a project will be organized and the firm's preference for the flow of revenue and costs. The majority of firms find it to be most effective if they build their WBS based on project budgets. Generally, this should be driven by the fee and scope using a bottom up approach.
Deltek Vision allows for three levels in the WBS, which are commonly labeled, Project, Phase and Task. However, this can be tailored to your firm's preference. Even more, accountability within a project can be assigned through the WBS. As a result, the entire project can have a manager and/or phase and task managers, which can be assigned based on the scope and budget responsibility.
It is important to note that project builds and WBS don't have to be the same across all projects. While not all firms are the same, it is highly recommended for most firms to let every project have at least one WBS 2. In other words, another WBS variation. Additionally, projects can be built with no WBS 3 or only some parts of the WBS 2 extending into the WBS 3.
Team Work Makes the Dream Work
Like the players on any type of team, the OBS and WBS need to play their roles both individually and in tandem to support the greater good of the team. The WBS at its lowest level drives how revenue and cost post to the lowest level of the OBS. Here are additional items to consider:
"Mirroring" the OBS in WBS for overhead projects
The combinations of cross charge, intercompany billing and high accountability you plan to build into WBS
The division of financial and operational accountability
Final Thoughts
In today's robust business environment, many firms are evaluating and updating both their OBS and WBS in Deltek Vision. A popular build methodology is using both geography and market sectors to build and operate under a 3D matrix solution. When considering changes to your current structures, the help of both functional and data consultants can result in a new and more productive Vision system. Timing and cutover planning is essential to success. Now is the time to get creative and strive to get the most out of your operations.