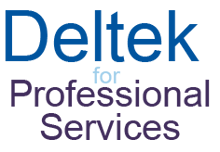 By now, you've probably heard about Deltek for Professional Services (DPS), but how does the next generation Deltek product help your firm? To answer this question, it's easiest to break down the firm into its key roles and show the benefits of DPS to each of them. So, role by role, let's look at the top 5 benefits of DPS.
Marketing Manager
Marketing is all about firm promotion to assist the business development team with connecting a firm to a potential new client. Firms must deliver and manage marketing campaigns and streamline the proposal process to win more projects. So, how does DPS benefit marketing managers?
Using DPS, marketing managers can:
Monitor campaigns to find potential clients and follow up on leads
Track marketing ROI and win rates
Deliver better and more information packed proposals
Eliminate wasted time and double entry with all the information you need in a single view
Collaborate on proposals through conversations, tasks, shared documents, and calendar events
Business Development Manager
Business development requires keeping a close eye on all your opportunities. Business development managers must track all their activities and touchpoints to ensure they are meeting their goals. Let's see how DPS benefits business development managers.
Using DPS, business development managers can:
Cultivate, nurture, and manage relationships with clients employing tools available
Easily see your sales pipeline to ensure goals are met
Provide competitive and reliable project estimates to ensure profitable projects
Easily collaborate across the firm to make the most of limited business development time and resources
Drive the go/no-go process to determine the best opportunities to pursue
Project Manager
Delivering a profitable project on time that exceeds the client's expectations can be difficult. Project managers must have the tools at their fingertips to make this happen. How does DPS help project managers?
Using DPS, project managers can:
Easily build project schedules and budgets for a profitable project
Utilize the right people on the right projects to deliver on schedule and under budget
See all necessary project aspects on one screen
Utilize alerts and dashboards to identify potential risks and make the required adjustments
Collaborate with project teams through conversations, tasks, shared files, and events to ensure projects are delivered on time and on budget
Human Resources Manager
Finding and retaining the best talent in the professional services industry can be difficult for human resources managers. Human resources managers need to quickly find, onboard, and retain top talent. What can DPS do for human resources managers?
Using DPS, human resources managers can:
Manage skills and certifications so they have the information they need to assign the right resources to projects
Forecast and fill resourcing gaps
Utilize customized self-service onboarding so talent can become billable faster
Evaluate resources at the project level to ensure project performance is at its best
View your firm's new hire information, retention rates, and turnover ratios
Controller
For a controller at a professional services firm, it can be extremely difficult to get accurate and timely financial information on projects and clients. Controllers need to track important metrics and address red flags before they affect the profitability of projects. Check out how DPS benefits controllers.
Using DPS, controllers can:
Generate invoices that are correct the first time
Get paid faster with interactive and automated billing tools in combination with robust accounts receivable management
Always know when things need your attention with thorough reporting
Track your goals by monitoring key metrics including margins, utilization rates, and cash flow
Quickly capture accurate information with simple timesheets and expenses
Executive
As the firm leader, the executive needs critical firm information at his fingertips. Executives manage the entire project from pursuit to payment and everything in between. How then do executives benefit from DPS?
Using DPS, executives can:
See the most profitable types of projects
Gain more profitability and efficiency by adjusting teams, projects, and resources
Make better and faster business decisions with all the information about the firm in a single view
Give employees a solution that is easy to use so they have more time for things that matter most
Find clients that are draining resources and hurting the bottom line
Deltek for Professional Services is the Answer to "What if"
What if it all just worked? With DPS, your firm can simplify the entire project lifecycle, from winning the project to getting paid by the client at the end. If your firm is ready to increase its profits and win more business, now is the time to see what DPS can do for you.