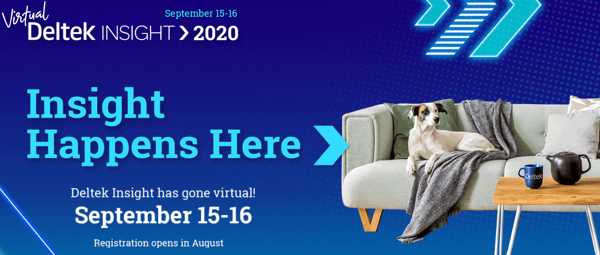 Deltek Insight 2020 is going virtual! This means you can still attend and experience all the great things Insight has to offer comfortably at your desk. Additionally, attendance is free, and all the content will be available on-demand!
Deltek Insight has Something for Everyone!
Insight is an annual event hosted by Deltek to help your firm learn more about your Deltek product from your peers, industry analysts, product experts and consultants. With hundreds of informative sessions focused on business development, finance and operations, project management and more, Insight 2020 offers specialized content and world-class workshops designed for every role and level of your organization!
Keynote Speakers
Dr. Shirley Davis, President & CEO, SDS Global Enterprises, Inc.
Dr. Shirley Davis is a workplace diversity and inclusion thought leader and has worked in over 30 countries to help companies create an inclusive and high performance workplace. Additionally, she is a highly sought after keynote speaker.
Mike Robbins, Author & Thought Leader
Mike Robbins in an expert in teamwork, leadership and emotional intelligence, and uses his knowledge to empower people, leaders and teams to be more engaged in their work. His clients include Google, Wells Fargo, Deloitte, Harvard University, and Coca-Cola to just name a few.
Mike Corkery, President & CEO, Deltek
Mike Corkey will share how COVID-19 impacted Deltek and how it enabled customers to be successful despite the pandemic. Mike will also address questions from attendees during fireside chat.
Meet the Experts
Have a pressing issue or challenge? Get your questions answered in a 1:1 Meet the Expert video appointment by a Deltek support and technical expert. Make sure to schedule your appointment after registering for Insight!
Education Sessions
Register for Insight to sign-up for virtual education sessions taught by industry experts. Plus, all sessions will be available on-demand.
Deltek University Certification
Here's your chance to take a complimentary Deltek University Certification exam to demonstrate your system knowledge and stay competitive in the workforce. Register for Insight to take advantage of this great opportunity!
Deltek MVP Awards
Each year, Deltek recognizes customers and partners that exhibit above and beyond achievements in their industry by using Deltek products. Find out what your peers are doing with their Deltek tools to get ideas on how to improve your firm's performance.
Project Nation's Got Talent
Are you an entertainer? If so, here's your time to shine! Register for Deltek Insight to learn how you can share your amazing talent for a chance to win $2,500.