Deltek Vantagepoint
Add a powerful, feature-rich ERP to your toolbox and get your entire team working on the same page of the same book.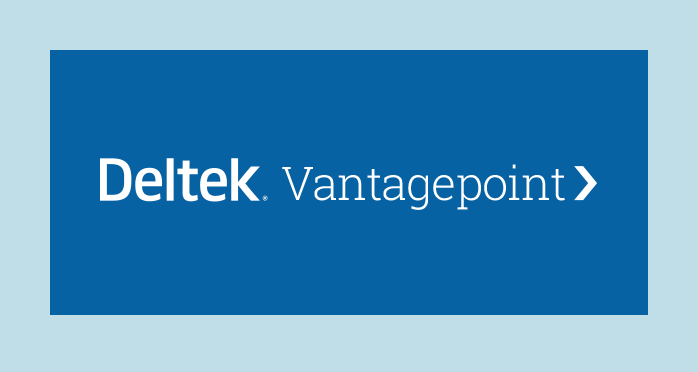 Receive a fully detailed readiness report
Get critical Vision database details to customize and configure the preview environment.

Train team members and make adjustments
Fine-tune the system and hone system-based skills for a smooth changeover and precise configuration.

Seamlessly transition to full production
Save time with automated conversion and easy upgrades that capture all changes made in preview.
Discover Deltek Vantagepoint's streamlined solutions and full-bodied feature suites that support the work of your entire organization.
A Cloud-Based System That Empowers Operations
Take full advantage of a cloud-based system that emphasizes security, privacy and flexibility with top-tier service providers—and empowers enterprise operations in the cloud.

Shake up company operations with better performance, faster connection and lower operating costs that can be accessed from anywhere and scaled at a moment's notice. Deltek Vantagepoint offers unmatched support, security and compliance for a solution that will quickly improve business operations from top to bottom.
Benefits of Vantagepoint
A One-Stop-Shop Solution for Every Department
As a fully integrated cloud-based enterprise resource planning solution, Deltek Vantagepoint will send your profit and productivity levels through the roof. Critical information is just a breath away, and workflows are transparent and streamlined.

Deltek Vantagepoint users are delighted by these outcomes:
Higher win rates
Increased resource utilization
Improved profitability
Increased chase flow
Complete visibility and control
Real-time data for informed decision making
Empower the Entire Team
Deltek Vantagepoint has been designed to support a project from start to finish, which means it fulfills the needs of everyone involved. Learn more about how Deltek Vantagepoint is the perfect fit for each of the roles within project-based firms:
Discover Deltek Vantagepoint's streamlined solutions and full-bodied feature suites that support the work of your entire organization.
Project-Based Work Delivered Efficiently
With more than 22,000 customers worldwide, Deltek is the leading provider of enterprise management software for project-based organizations, including:
Architectural Engineering
Consulting
Anywhere project-based work is being done, Deltek Vantagepoint is bringing entire teams of people together, making workflows clearer and more efficient, conserving resources, and bolstering profits.

Learn more about how Full Sail Partners is supporting the work of our clients through Deltek Vantagepoint by viewing our featured firms.
Guided Implementation
A Well-Charted Guide to Navigate the Shift
Leave no stone unturned. Strategic planning sessions and a deep dive into organizational goals and operations mean each Full Sail Partner implementation plan is personally tailored to maximize efficiency. Plan for current and future needs, champion the transition with crystal-clear direction, and define and follow trackable results.

Our clients benefit from our tireless guidance at each step of implementation, so they end up with a solution that's tailored to support their processes, goals and desired outcomes. And when it's time for us to let go and hand over the wheel? They're fully trained on a system that optimizes performance in every department.
Get a full picture of the implementation process from start to finish here.