Reliable Cloud Hosted Solution for Deltek Vantagepoint and Vision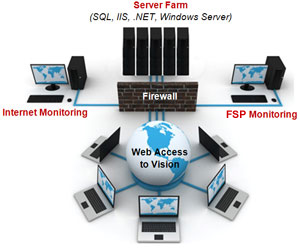 Now you can obtain the many benefits of seamless hosting for your Deltek Vantagepoint and Vision application from Full Sail Partners and enjoy savings, security and simplicity.
We are more than just a hosting provider, our technology consultants know Deltek Vantagepoint and Vision. That means you can rest assure we will work with your firm, whatever issue may crop up. We are here to provide guidance and assist your firm with resolution.
Take advantage of best-of-breed hardware solutions, as well as, IT and engineering best practices all while saving money. Full Sail Partners' hosted environment means you don't have to worry about catastrophic failures such as fires and floods, day-to-day routine headaches such as testing backups and keeping the system up-to-date, or even minor inconveniences on the workstation itself.
See how other firms are saving money by eliminating purchasing costly hardware and software and reducing IT overhead expenses all while ensuring your data is safe.
Improve Company Margins
Computer hardware, security updates, and IT and maintenance technicians are all significant expenses for your business. The costs don't end with the initial investment. On-going operational expenses continue to diminish margins. Which is why so many companies are turning to Full Sail Partners to host their Deltek Vantagepoint and Vision application.
Full Sail Partners can improve your margins, and reduce your workload, by eliminating your need to invest in:
Upgrades
New technology and servers
Pre-requisite software and extended software license
Escalating security measures
Ongoing maintenance
Additional IT personnel
Reduce Workload
You chose your Vantagepoint and Vision Application to ease your workload and improve your business performance. Shouldn't your hosting solution provide those same benefits? When you host with Full Sail Partners you'll enjoy reliable hosting that affords you:
Scalability
Fixed, predictable, monthly costs
State-of-the-art server farm for crash-free, worry-free performance
Optimal hardware, equipment, and IT staff to keep your Vision system running smoothly
Secure and Reliable Back-ups
When you choose Full Sail Partners to host your Deltek Vantagepoint or Vision Application, you'll enjoy the protection of our highly regarded, always-on-24/7/365, and Vantagepoint and Vision specific technology consultants.
Your data, and your peace of mind, is further secured by way of Full Sail Partners' advanced use of:
Biometrically secured, ballistics and hurricane proof facility with fire suppression and redundant cooling systems
Multiple, redundant Firewalls and Intrusion Detection systems for maximum security
Redundant, uninterruptable power with on-site generator and battery back-ups
Hot standby failover servers
To discover why more businesses are relying on Full Sail Partners to host their Vantagepoint and Vision application, fill out the ROI Calculator to see how your firm can save money.