What Are the Benefits of the Client Feedback Tool?
The Client Feedback Tool helps your firm collect and incorporate feedback from your clients. More importantly, it allows a firm to understand how to fine-tune their performance for maximum benefit. This patented process builds client awareness of the designer's true value, resulting in client loyalty and long-term firm prosperity. Below are the benefits firms experience by utilizing the Client Feedback Tool.
Improve Client Satisfaction
By using a patented process to gauge client expectations and satisfaction throughout the project, the Client Feedback Tool allows firms to collect objective, specific data from their clients to better meet their goals, needs, and priorities. Project Managers can empower this data to promote the best process for each project, spot problems early and promote and recognize top performance.
Additionally, presenting objective, specific feedback from your existing clients to confirm your quality, value and helpfulness allows potential clients to believe you, trust what you are saying, and know what your firm can do.
Increase Profitability
This tool helps your firm accomplish its number one goal - become more profitable! By adjusting fees to match value, and identifying ways to improve value offered to clients, this process harnesses the power of feedback with the goal of becoming the client's expert. The Client Feedback Tool allows Project Managers to fine-tune their team's process in order to deliver the highest value for their clients (at the lowest cost for the firm!)
What if you could see which clients believed your value exceeded your fee?

What if you could see where you have opportunity for refinement?
Enhance Deliverables
Use the Client Feedback Tool to focus on results from your client's perspective. Use real time feedback throughout the project to customize your process for each client. This will allow you to identify client preferences, track staff patterns, and refine your project process.
| | |
| --- | --- |
| | Identify your firm's specific strengths and opportunities by client or project. |
With an extra emphasis put on client feedback, staff naturally adjust their performance to better help their clients. When project team members become competitive to perform well for clients, the client wins! Knowing your clients better will allow you to improve your deliverables by giving your firm the ability to identify failures in the earlier stages, when easier to fix.
Strengthen Staff Performance
The more team leaders know about the results their teams are creating with their clients, the better leaders can assist, train, assign and applaud their team members.
By using the Client Feedback Tool to track the growth of each staff member's skill set, firms can focus training exactly where it is needed. This helps promote the most substantial sense of growth and development for each staff member. Long term staff retention is a key part in building long term lasting relationships with clients.
Identify each staff member's specific strengths and expertise.

Identify each staff member's specific opportunities for training.
The Client Feedback Tool helps firms stay aware of each staff member's performance and offers prompt recognition for desired results. This tool enables your firm to produce the most substantial sense of growth and professional development for each staff member.
Decrease Liability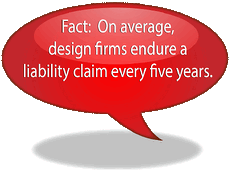 In order to reduce claims, The Client Feedback Tool utilizes a communication process that constantly collects and publishes client perceptions about your firm's processes, to create strong client awareness and reduce your firm's liability. This is accomplished by:
Using a system to understand client needs
Tracking client's responses during a project
Identifying problems when they first appear
Reducing your problems by finding what creates them
In a worst case scenario, if litigation were to arise from a project, by establishing proof of constant communication with our clients and published feedback and results, we are able to help establish proof of reasonable effort.

Questions Clients Ask:
What reports are available?
Does this Tool integrate with Deltek Vision?
How does the tool gather & organize information?
How soon after purchasing the Client Feedback Tool can I utilize the Tool?
What are the system requirements for the Client Feedback Tool?
How much will it cost my firm to use the Tool?
To answer these questions or request a demo, please fill out the form to the right. Alternately, feel free to call (877.552.5535 x2) or email. We look forward to discussing further how Full Sail Partners can help.