Client Feedback Tool Process: Collect, Review, Follow-up
How does the process work?

The Client Feedback Tool works on the simple principle of inventorying the client's reaction just after a designer completes a task. This is done after key phases of a typical project when feedback can most help designers understand where and how to fine-tune their process to increase their helpfulness to the client. The process works in three main phases: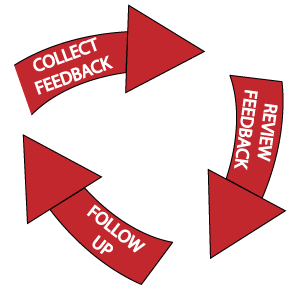 Step One: Collect Feedback
During the design process, Project Managers and Designers are able to use the Client Feedback Tool to send a simple email link to one of our highly customized surveys. Here the client can offer systematic and objective feedback related to the design process. Answering these few simple questions typically takes less than five minutes of the client's time. Note: Most surveys contain eight questions or less.
Step Two: Review Feedback
The Client Feedback Tool captures and organizes the client's feedback into several graphic reports. The project team can view full details of every response to an individual survey, or see trends and patterns of responses over time. This new information allows designers and firm leaders to spot extremes (both positive and negative) in time to be proactive about a situation.
Step Three: Follow-up
Here are just a few ways that this new information can be incorporated:
Identify where to fine-tune your design process for each client
Become aware of client problems when they first occur
Increase your designer's flexibility in helping their client
Identify where designer training will be most beneficial
Increase the client's sense of your firm's expertise and helpfulness
Understand where and when to applaud designers for their results

If you questions or would like to request a demo, please fill out the form to the right. Alternately, feel free to call (877.552.5535 x2) or email. We look forward to discussing further how Full Sail Partners can help.