Webinar Series: Talent Management for Dummies – Presented by Deltek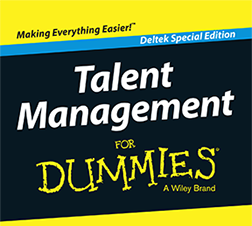 This five-part webinar series is based on a the "Talent Management for Dummies, Deltek Special Edition" coauthored by Daniel Carusi, VP and Chief Learning Officer at Deltek, and Michelle Cipollone, Senior Product Marketing Manager for Talent Solutions at Deltek.
Webinar Highlights:
Part 1: War for Talent
Part 2: Hiring Smarter and Faster
Part 3: Retain Talent
Part 4: Investing into Your People
Part 5: Leveraging Technology to Manage Talent
Register for these webinars to learn more about talent management and ask the Deltek team your questions. Can't attend the live webinar? Register anyways and we'll send you the recording.
About the Speaker:
Michelle Cipollone
Senior Product Marketing Manager Deltek
Michelle is currently a Senior Manager of Product Marketing for Deltek Talent Management. She has spent the last eighteen years working with firms helping understand trends, best practices and tools that help people and organizations streamline their business and processes. Most recently, she co-authored "Talent Management for Dummies."