Powering Project Success with Deltek Vantagepoint – Quickly and Easily Issue Draft Invoices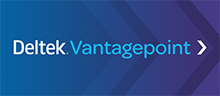 Consistent cash flow requires having an efficient billing process. Fortunately, Deltek Vantagepoint contains intuitive features that allow for your accounting department to quickly and easily issue draft invoices using batch billing. During this mini demonstration, you will see how to generate multiple invoices within Vantagepoint that can then be sent to approvers for review. Additionally, you will see how to add an unbilled detail report and reimbursable backup documentation to the draft invoices.
Join us on September 23rd, 2020 at 1:00 pm ET to see how Deltek Vantagepoint can improve your billing process and your firm's cash flow.
Presenter:
Scott Gailhouse, Principal Consultant and Consulting Team Manager at Full Sail Partners
Make sure to check out all the demos in the Powering Project Success with Deltek Vantagepoint series.
**Please note that these demonstrations are short between 3-10 minutes long. Plan on showing up early if possible and come prepared with questions that are answered at the end of the demonstration.