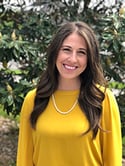 Full Sail Partners, a Deltek Premier Partner, is excited to announce the promotion of Amanda Roussel to CRM Consultant. In this role, she will work with the marketing and sales teams in professional services firms to strategize on how to centralize, optimize and streamline their Deltek Vantagepoint CRM processes.
Since joining the Full Sail Partners' marketing team in 2020, she has been focused on assisting clients with the upgrade process from Deltek Vision to Vantagepoint. This experiential knowledge of the upgrade process will allow Amanda to both help more clients and Full Sail Partners continue to meet the growing demand for Vision to Vantagepoint transition services.
"I have worked with various roles within firms throughout my career and learned to appreciate how firm wide strategies can give firms a competitive advantage. Establishing efficient CRM processes gives firms the tools they need to build and enhance client relationships. To me, business is about how I can help others reach success," stated Amanda Roussel.
With more than fifteen years of marketing experience in the AEC industry, Amanda is very familiar with the challenges that clients face in their day-to-day business operations. She also understands how these issues can be addressed utilizing both Deltek Vision and Vantagepoint and is aware of the impact CRM has on developing client relationships. She will focus on helping firms learn how to manage their client, pursuit and campaign data to build stronger relationships with their clients.
"Amanda has already become an integral part of our Vantagepoint upgrade and CRM implementation team. Her past Deltek Vantagepoint experience along with her enthusiastic and professional demeanor makes her an ideal consultant," stated Sarah Gonnella, VP of Marketing & Sales. "We are excited to have another rock star consultant on our team!"
For more information, please email Full Sail Partners' Marketing Communications Department.