Powering Project Success with Deltek Vantagepoint – Critical Business Development Activity & Pipeline Management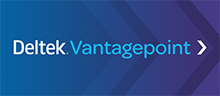 Are you the Type-A on steroids that wakes up ready to slash items from your to-do list? Maybe you're more easy going and occasionally need help organizing business development (BD) activity. Deltek Vantagepoint can bring your team of BD bandits together and streamline the chaos of chasing professional services engagements. As your BD activity becomes more refined, you'll need a way to keep up with all that new work being demanded by your great clients and prospects. Does accurate pipeline data make you smile? It sure will put a smile on your boss's face. Quit the spreadsheets, NOW! Deltek Vantagepoint CRM gives you a seamless environment for pursuing and closing new projects – on any device, anywhere. During this mini-demonstration, you will learn how easy it is for your team to manage their critical BD activities and shepherd new project pursuits to the finish line. Call the finance people now, and tell them to buckle up!
Join us on June 24th, 2020 from 1:00 - 1:30 pm ET to see how Deltek Vantagepoint is taking business development and pipeline management to the next level.
Presenter:
Kevin Hebblethwaite, FSMPS, CPSM, Principal Consultant at Full Sail Partners
Make sure to check out all the demos in the Powering Project Success with Deltek Vantagepoint series.
**Please note that these demonstrations are short between 3-10 minutes long. Plan on showing up early if possible and come prepared with questions at that are answered at the end of the demonstration. Also, computer audio is required.