Powering Project Success with Deltek Vantagepoint – Utilizing the Search Functionality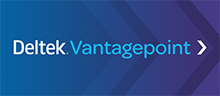 Capturing project details in Deltek Vantagepoint and sharpening search skills go hand in hand. The search functionality allows various roles to easily retrieve the data they need, whether it's for KPIs, project management, or new work pursuits. During this mini demonstration, you will see how Vantagepoint's standard, basic, and advanced search functionality can put the data at your fingertips. Mastering saved searches is handy for dashboards, report building, project lookups, and more.
Download now for a twelve minute mini demonstration on utilizing the search functionality in Deltek Vantagepoint.
Presenter:
Amanda Roussel, Marketing & Business Development Specialist at Full Sail Partners
Make sure to check out all the demos in the Powering Project Success with Deltek Vantagepoint series.