The Top 10 Acquisition KPIs for Project-Based Firms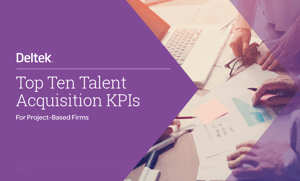 Do you know what KPIs you should be focused on measuring during the talent acquisition process?
Download this complimentary eBook outlining the top ten metrics that project-based businesses should be tracking to deliver sophisticated insights and help build effective, forward-facing acquisition strategies.
Highlights include:
The top 10 KPIs to project-based firms should be tracking during the talent acquisition process
How to treat acquisition as a strategic function to help lower its costs
How to create a pipeline of competitive and qualified talent at your firm.