Modernize Your Business with the Next Generation Business Intelligence Tool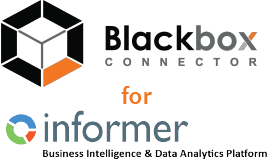 Gone are the days of complicated business intelligence (BI) platforms and static reports. If your firm is ready to modernize your business, join us for our upcoming webinar as we introduce the next generation business intelligence tool, Informer 5. During this webinar, we will discuss the Blackbox Connector that integrates Deltek Vision with Informer. This powerful tool allows your firm to:
Generate Dashboards that consolidate critical performance metrics
Integrate visualization components such as data grids, charts, gauges, sliders, maps and more
Aggregate disparate data (Deltek Vision, spreadsheets, etc.) using a single platform
Empower everyone to answer their own questions and make more data-drive decisions
"Informer business intelligence coupled with Deltek Vision is currently the most exciting and ambitious project we are working on, it's a game changer for our users," stated Wes Renfroe, VP of Technology, Full Sail Partners.
You won't want to miss this webinar to learn about the future of business intelligence and data analytics.
Presenter:
Wendy Gustafson , General Manager, Full Sail Partners