Concur Meets Deltek Vision: See How Expenses Were Just Made Easier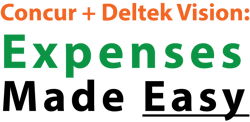 Ready to make expense management easier? Propel your business to the next level and gain insight on how the Blackbox Connector is bringing data together. Learn about the benefits of Concur's Expense controls and management combined with Vision's expense and project management tools to create an unbeatable solution for project management firms. During this webinar, we will unveil the Deltek Vision and Concur integration. See how the integration of these two industry leading solutions will give you the power and flexibility needed to better manage your expenses.
Attendees will:
See the launch of Blackbox's turnkey, cloud-based, integration of Deltek Vision and Concur
Understand how to reduce administrative time spent collecting billable information
Learn how to get increased visibility into the entirety of project financials
Implement automated controls into your company's expenses
Review how to streamline efforts and eliminate duplicate data entry
Register to see how everyone in your firm wins with automated expense management and watch this past webinar to learn more about Concur.