Workplace Culture:
What
A
bout
Y
our
C
ompany
A
ttracts AND
K
eeps
G
reat
E
mployees?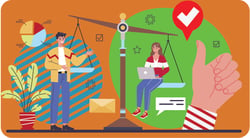 Workplace culture is the set of values, belief systems, attitudes and assumptions that people in a workplace share.
The pandemic has forced many organizations to evaluate their work culture. They have had to figure out how to adjust their practices and policies to accommodate the necessary changes but not compromise the foundation of their culture. Before attempting to make these changes, it's important for firm leaders to have a clear understanding of what they believe the culture is and how employees perceive the culture to be.
When we look at what changes and adjustments are trending in the professional services industry workplace, we'd like to highlight just a few of which Full Sail Partners has successfully implemented and practiced over the past decade. The panel will share personal experiences and knowledge focusing on the following workplace culture trends.
Teleworking and Flexible Schedules: Is it the right move for your company? How does Full Sail Partners thrive in a 100% remote work environment? Why has the focus turned to productivity over hours?
Autonomy and Trust: Creating a trusting environment, which incorporates policies, practices and expectations that result in a win/win situation for the employees and the firm.
Support and Tolerance: Starting at the top, fostering energy that embraces and encourages employees to be their authentic selves, to practice tolerance and sensitivity, to be supportive and helpful, as well as non-judgmental creates a workplace where employees feel valued and supported. This, in turn, creates loyalty. Also, sharing the importance of maintaining a culture that is not problem-focused but solution-oriented.
Job Position Restructuring: Re-skilling and upskilling are trending which is requiring companies to think outside the box. Where do they start? What are the primary factors to consider when re-evaluating company structure and job descriptions?
Being clear about what the firm culture is and what the company's goals are will help identify the professional services firm's differentiators from the competition and the type of talent the firm is seeking.
Watch the webinar on-demand to learn more about firm culture trends and best practices to incorporate those into your professional services firm.


Presenter and Panelists:
Panel moderated by Tasia Grant, PHR, Senior HR Consultant. Panelist members include: