Fall in Love: Proposal Automation for Project Managers
When you think about proposals, most firms think about profiling projects, employee resumes, and your corporate profile. However, most proposals, about 80% on average, are in a letter format and generated outside of Deltek Vision by the Project Manager. Why? Because Project Managers love their Excel spreadsheets and Word documents and most firms believe it's too hard to automate for the different variables needed. During this session, we will demonstrate how to provide the flexibility Project Managers need while reducing time by automating proposals and agreements from the Opportunity Info Center. See why Project Managers will love generating proposals from Deltek Vision's Opportunity Info Center, while improving accuracy and consistency throughout the proposal. Attendees will learn how other Deltek users increase efficiencies and reduce loss of data through automation.
This user group will be presented by Sarah Gonnella.
Sarah Gonnella Biography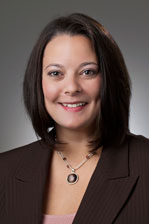 Sarah Gonnella has been providing CRM consulting and marketing direction for the firm for 5 years. Sarah oversees the internal marketing and business development efforts for the firm. She is also provides consulting services to clients that use Deltek Vision's CRM, Custom Proposal and Government modules. She is a graduate of Truman State University in Missouri.
A results-driven marketing professional with more than 15 years of marketing experience she has provided guidance to A/E/C, environmental and energy, management consulting, and government contracting firms. She is an award-winning marketing professional with demonstrated ability to streamline operations and increase productivity. She earned recognition (Quality Control/Quality Assurance and Employee of the Year awards) at an Atlanta-based A/E firm that recruited her to rebrand the company and streamline their proposal process.

She is on the Society for Marketing Professional Services (SMPS) National Technology Committee and the Executive Advisory Council of the SMPS Atlanta Chapter. She previously served as President of the SMPS Atlanta Chapter and for her contributions to the Chapter, she received the Pacesetter Award.