What's New in Deltek Vision 7.5?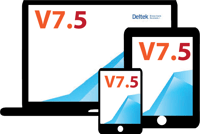 Are you ready for Deltek Vision 7.5? Don't worry, our team of experts are here to get you up to speed! Deltek Vision 7.5 includes features and enhancements that are a direct result of your input. Optimize your organization with Vision 7.5 and provide your teams the latest tools and resources to win more, manage more and do more!
Register to join us for this free virtual webinar as we review the latest enhancements and features introduced with Deltek Vision 7.5, including:
Improved General Ledger
New powerful workflows from Absence Requests to AP Invoice Approvals and Reviews
Enhanced Asset Management
Multiple Multi-Company Employee focused improvements
Enriched Project Planning
New functionality with Custom Proposals – including improved functionality with Adobe InDesign
and more!
Presenters:
Rana Blair
Kevin Hebblethwaite
Nicole Temple