Have You Seen Vision Lately? What's New in Vision 7.1 & 7.2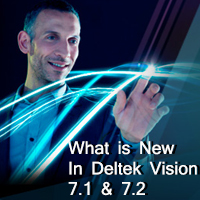 Earlier this year Deltek released Vision 7.1 – the most expansive and powerful version of Vision to date! Register for this webinar led by Nicole Temple, Senior Consultant with Full Sail Partners, to learn more about exciting features offered in Vision 7.1. Get the most out of your Deltek Vision system – with new capabilities to streamline processes, and ease-of-use enhancements to deliver high-quality project and financial management to professional service firms.

Nicole will cover many of the new capabilities in Vision 7.1, including:
TDM Functionality
Create Proposals that Sizzle with Vision's New Adobe InDesign Integration
Invoice Approvals
Refined Security and ID/Password Reset
General Usability
Vision Performance Management (VPM)
With Deltek Vision 7.2 expected to release in December, Nicole will give a high level synopsis of the newest features and functions offered in 7.2.