Amy Balassone
"I feel privileged to be a part of a company that takes a consultative sales approach to ensure prospects are the right fit for the software. This customer-focused mentality is what makes this company great and easy to work for."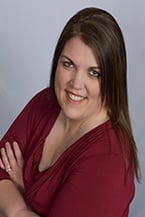 Professional History
Amy Balassone is a Relationship Manager for Full Sail Partners. She focuses on cultivating new clients through referrals, building relationships with existing clients and promoting brand awareness of the Blackbox Connector. With previous experience in customer satisfaction, sales and technology, Amy works to provide solutions to customer issues with the various Full Sail Partner Blackbox offerings.
Formerly serving as a Direct Marketing Associate, Amy has been part of the marketing and business development team at Full Sail Partners for almost 3 years. Additionally, Amy has over 12 years of experience with sales, customer service and marketing including outbound sales calls, event coordination, content writing, and website maintenance.
Specialties
Deltek Vantagepoint & Vision | Concur | Microsoft Applications – Outlook, Word, Excel, PowerPoint, Publisher | Customer Service