Lisa Ahearn
" As a consultant, I am always looking to make things better, easier or more efficient for clients."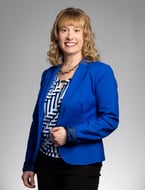 Professional History
Lisa Ahearn is a Senior Consultant with Full Sail Partners. In her position, she works with project-based firms helping them upgrade from Deltek Vision to Vantagepoint and does new implementations. Additionally, she is a valuable resource for multi-company and knowledgeable about workflows.
With a degree in Accounting, Lisa served for over 20 years as an Accountant and Controller at an engineering firm. She also served as the Vision ERP System Administrator for 11 years. Having previously implemented Vision, created a comprehensive user guide and led training for staff, she is very familiar with Deltek ERP. Lisa was an active participant in the Wisconsin Deltek User Group and has spoken several times at the Deltek Conference about topics such as workflows, sales tax and marketing campaigns.
Specialties
Deltek ERP Systems - Vision and Vantagepoint | Workflows | Multi-Company