Powering Project Success with Deltek Vantagepoint – Capture Project Information for Proposals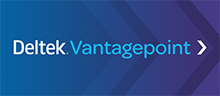 When clients are seeking a professional services firm to implement their project, they want to know about your firm's past experience. Each RFP has unique requirements and often the marketing professionals are under a tight deadline to produce the proposal response. With Deltek Vantagepoint, accurate project information you need is at your fingertips to create proposals faster with more accurate information!
Join us on April 22, 2020 at 1:00 pm ET for this 20 minute mini demonstration to see how to capture and store your project information from the moment you hear about a potential new project through project completion.
Presenter:
Lindsay Diven, CPSM, Senior Consultant at Full Sail Partners
Make sure to check out all the demos in the Powering Project Success with Deltek Vantagepoint series.
**Please note that these demonstrations are short between 3-10 minutes long. Plan on showing up early if possible and come prepared with questions at that are answered at the end of the demonstration. Also, computer audio is required.