Powering Project Success with Deltek Vantagepoint – Create Flexible Billing Terms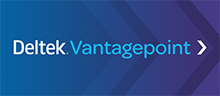 Each of your firm's projects are likely to have some unique milestones and billing terms. Keeping up with individual projects and their specific requirements can be compared to herding cats. It can be challenging not only for those responsible for the actual billing, but also for the firm leaders who want to quickly understand each project's billing terms. With Deltek Vantagepoint, creating and applying unique billing terms has never been easier.
Join us April 8th, 2020 at 1:00 pm ET for this 20 minute mini demonstration to see how creating flexible billing terms for projects is made simple with Deltek Vantagepoint.
Presenter:
Scott Gailhouse, Principal Consultant and Consulting Team Manager at Full Sail Partners
Make sure to check out all the demos in the Powering Project Success with Deltek Vantagepoint series.
**Please note that these demonstrations are short between 3-10 minutes long. Plan on showing up early if possible and come prepared with questions at that are answered at the end of the demonstration. Also, computer audio is required.