Bridging the Generational Gap with Social Collaboration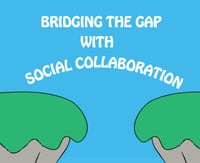 Today's workforce is comprised of the largest generational gap in history which has created new challenges for Human Resource professionals. Technology has allowed professionals to enter the workplace at an earlier age and exit well beyond the historical retirement point. Most conversations focus on the generational gap and its potential damaging effect on the workplace. This gap is often referred to as a catastrophe – a reflection of the impending doom facing our future business.
This get real discussion hopes to change the direction of the conversation regarding generational gaps. Rather than focusing on negative stereotypes as we hope to focus on the values and perspectives each generation can contribute to today's world of social collaboration and knowledge sharing in the workplace.
This session will:
Identify the values generations share and how differences make relationships stronger
Review emerging studies that highlight the value and benefits of social collaboration in the workplace
Explore how Deltek Kona can improve information sharing within your firm.