Embrace the Inevitable: Create Positive Resolutions Out of Workplace Conflict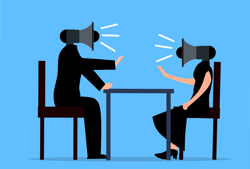 Most people want to be liked and accepted at work, so will avoid conflict, even subconsciously. Additionally, leaders prefer to avoid addressing difficult situations in hopes that they will just go away. No one likes conflict, however, new and creative ideas are often revealed and developed as a result of conflict resolution. Either way, ignoring workplace conflict for any reason can have a significant financial and environmental impact on the firm.
During this webinar, Tasia Grant, PHR will explain the different types of conflicts that occur in the workplace and the reasons behind these differences. Furthermore, she will cover the core steps to creating a strategy for managing conflict resolution to create a culture that embraces constructive conflict. After all, your employees and their ideas are going to be the driving force to improve firm performance.
Speaker:
Tasia Grant, PHR, Human Resources Consultant at Full Sail Partners