Introducing a New Contact and Email Management Tool for Deltek Vantagepoint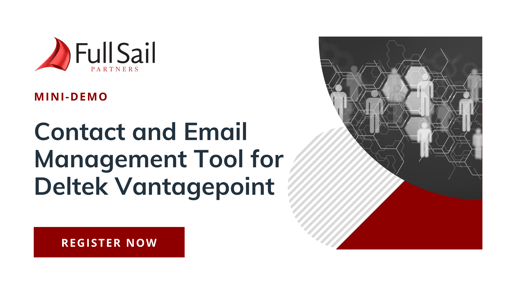 There is often an enormous amount of contact information already in Deltek Vantagepoint for many firms. And this contact information is a great resource for creating marketing campaigns. However, having the ability to easily and quickly manage that contact information to find duplicate contact records and bad email addresses can be a challenge.
That's why Full Sail Partners developed the Contact and Email Management Tool for Vantagepoint. This tool gives users quick insight to maintain contact data. In this mini-demonstration, viewers will see how the tool works and how to get this tool for free.
Specifically, the mini demonstration will show how to:
Search for duplicate email addresses in the Contacts Hub
Search for email addresses with bad formatting
Search for Contact records with duplicate names
Download the demo now to see how the Contact and Email Management Tool will help users quickly see and prioritize the contact management for their Deltek Vantagepoint system.
Presented by:
Lindsay Diven, CPSM, Marketing and Sales Manager, Blackbox Connector