Powering Project Success with Deltek Vantagepoint –
Introducing the
Revenue
Forecasting
Tool
Discover how Deltek Vantagepoint is redefining the landscape of project financial management with its advanced Revenue Forecasting Tool. Now that we have the Revenue Forecast tool, users are no longer limited to relying solely on estimated fees and start and end dates. Now, the game has changed.
Deltek Vantagepoint's Revenue Forecast tool offers advanced precision in forecasting for both potential and contracted projects. For example, this tool enables users to choose between gross or net estimated fees for forecasting and offers the flexibility to forecast at various project levels and across different calendar years.
In this mini-demo, Rana Blair, Principal Consultant, will guide you through the intricacies of the Revenue Forecast tool. You'll learn how to input and utilize data effectively, and how this data can be transformed into comprehensive reports and dashboards. These tools are invaluable for different user groups, providing insights that span the entire project lifecycle.
Join us on Wednesday, December 6 at 1pm ET to explore:
Enhanced Forecasting Capabilities: See first-hand how the Revenue Forecast tool allows for more accurate and detailed forecasting.
Customization and Flexibility: Understand the flexibility of forecasting at different project levels and calendar years.
Versatile Reporting: See how the same forecast data can be used to create diverse reports and dashboards, catering to various audience needs.
Practical Demonstration: Watch Rana Blair demonstrate the practical application of the tool, highlighting different methods of data input and usage.
It's a must-attend mini-demo for professionals involved in project management, financial planning, business development, and analysis who are looking to leverage advanced forecasting tools for better project success.
Presenter:
Rana Blair, Principal Consultant
**All registrants will receive a recording of the presentation along with any presentation materials within 24 hours after the live event.
***Please note that a Zoom account is required to attend the live webinar. If you are prompted to login to Zoom to join the webinar, use your email address and password for Zoom. Your password is not the event passcode. 


Mini-Demo 15-minute demo,
15-minute Q&A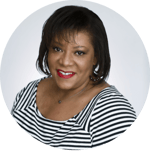 Presenter: