Wes Renfroe
"I encourage clients to consider Vision Application Hosting services. With the 99.5% uptime guarantee and failsafe systems we offer, it's a cost-efficient way to ensure that Vision is always running at peak performance."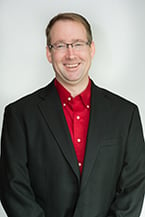 Professional History
Wes, VP of Technology, is usually the busiest person in the room. In addition to overseeing IT for the firm, he develops solutions for Vision Application Hosting clients. He also provides hardware and network consulting services to Deltek Vision® customers and technical support for Full Sail firms and staff members.
Wes has an extensive IT background, including technology management in the A/E field. He holds a Bachelor of Science in computer engineering from Clemson University and an associates' degree in nuclear technology from Thomas Edison University.
Wes served six years in the US Navy as a nuclear reactor operator. Wes holds Certification as a Microsoft Certified Systems Engineer (MCSE), Cisco Certified Network Administrator (CCNA), A+, Network+ and Server+.

Highlights
Certifications: Microsoft Certified Systems Engineer (MCSE), Cisco Certified Network Administrator (CCNA), A+, Network+ and Server+