The Future of Business Intelligence with Deltek Vantagepoint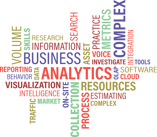 It's 2021 and the future of professional services is about to change drastically with the surge in business intelligence (BI) capabilities. During this presentation, our BI expert will explore the pros and cons of commonly used BI tools, and why Full Sail Partners is a strong believer in the power of Informer 5 for professional services. Additionally, Chris Simei will demonstrate capabilities of Informer 5 and the latest enhancements being made by the Blackbox Connector and Entrinsik teams.
Join us on February 10th at 1:00 pm ET to learn how your data can be visualized to allow your firm to make faster and actionable decisions.
*Please note this presentation was previously presented to small group of our clients. If you were part of this group in September, feel free to join this webinar if you have new questions for Chris.
Speaker:
Chris Simei, Senior Solutions Consultant at Full Sail Partners