In the News
We're devoted to revolutionizing the way our clients do business. Sometimes that gets us noticed.

No big deal.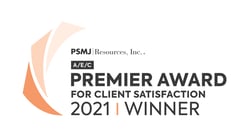 Full Sail Partners, a Deltek Premier Partner and technology consulting firm for AEC businesses, has been selected as a recipient of the 2021 Premier Award for Client Satisfaction by PSMJ Resources and Client Savvy. This recognition is given to firms that operate in the AEC industry and have demonstrated they provide a truly exceptional client experience. Full Sail Partners is proud of its commitment to provide client-focused technology solutions and services always considering what would work best for each individual firm.
The 2021 Premier Award for Client Satisfaction winners are chosen using survey data from over 300 firms. Based upon the survey responses, firms which really stand out regarding client feedback are given this prestigious distinction. Award recipients were honored at the 2021 PSMJ A/E/C THRIVE – The Growth, Profit, and Performance Summit held on September 22-24.
"Full Sail Partners understands the value of creating long lasting relationships with our clients that is built on our quality of service and mutual trust we develop during our engagements," exclaimed Sarah Gonnella, VP of Marketing and Sales, Full Sail Partners. "We are proud of our team of consultants and the exceptional relationships they have built with our clients."
Since 2009, Client Savvy has partnered with PSMJ to recognize the professional services firms around the globe that achieve the highest standards of excellence by the metric hardest to achieve: excellence recognized by a firm's clients. Full Sail Partners began their journey several years ago and is honored to have been recognized with this achievement four years in a row.
"Full Sail Partners has recently won the coveted 2021 A/E/C Premier Award for Client Satisfaction, the architecture and engineering industry's only data-supported recognition of superior service and project delivery. The annual Premier Award is granted based on 3rd party client survey research and analysis performed by PSMJ Resources and Client Savvy, two leading business management consulting organizations in the A/E/C space," stated Gregory Hart, Marketing Director, PSMJ Resources. "Thank you to the entire team at Full Sail Partners for putting client interests first, doing great work, and exceeding expectations every day!"
For more information, please email Full Sail Partners' Marketing Communications Department. Interested in meeting the rest of the crew? Check out the link below!