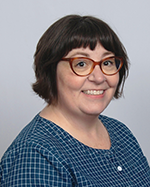 Full Sail Partners, a Deltek Platinum Partner and creator of the Blackbox Connector, has announced the hiring of Carolyn McKnight as a senior consultant. In this role, Carolyn will be a leading member of the Deltek CRM Consulting Team at Full Sail Partners and contributing her expertise to Blackbox Connector team. Her wealth of knowledge will help Full Sail Partners' clients leverage their Deltek CRM system to maximize the value of their investment.
Carolyn brings more than 15 years of experience in the A&E industry specifically using Deltek Vision and most recently Vantagepoint. During her career, she has served in several roles from a firm CRM knowledge manager to senior business analyst, and she served as a Deltek User Group leader in Nashville, TN. Carolyn has experience with creating workflows, using SQL and importing data in Vantagepoint and Vision. Additionally, she has used and is knowledgeable about OpenAsset, the Client Feedback Tool and business intelligence tools.
"As a longtime user of Deltek products, I have direct hands-on expertise to help clients take advantage of all the features and capabilities available in the CRM module," explains Carolyn. "Joining Full Sail Partners will allow me to share my insights and knowledge to allow firms to improve and streamline their CRM processes."
As a senior consultant, Carolyn will work with clients to understand their business development processes and strategy to ensure their Deltek CRM system is configured to meet the needs of the firm. She will also assist in the Deltek CRM implementations and Blackbox Connector products integrations. Carolyn's knowledge of the A&E industry and how Deltek CRM supports firm efforts in winning more business makes her a great resource for Full Sail Partners and their clients.
"Carolyn is a triple threat. She is creative, technical and analytical and brings a wealth of knowledge and experience to our Deltek CRM Consulting Team," stated Sarah Gonnella, Vice President of Marketing & Sales, Full Sail Partners. "We are beyond excited to have her as a resource for our clients and a mentor to our team."
For more information, please email Full Sail Partners' Marketing Communications Department. Interested in meeting the rest of the crew? Check out the link below!