In the News
We're devoted to revolutionizing the way our clients do business. Sometimes that gets us noticed.

No big deal.
Bryce's

specific past product experience

combined with marketing

educational background make him a grea

t asset for clients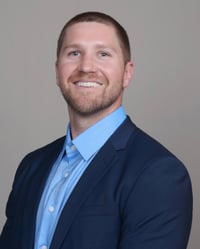 Full Sail Partners, a Deltek Premier Partner, is thrilled to announce that Bryce Crosby has joined the Sales team as Product Sales Manager. In this role, he will oversee all Full Sail Partners' product sales, including Deltek Vantagepoint and Deltek Talent. This position will manage the overall Deltek partner sales relationship and oversee targeted new business efforts.
Bryce joins Full Sail Partners with more than five years of experience selling ERP and finance-related software applications to project-based firms. This expertise includes Deltek Ajera, Deltek Vision, and Deltek Vantagepoint. This specific past experience with Deltek products provides him with an understanding of the architectural, engineering, and professional services industry. Furthermore, Bryce's experience with lead generation, client nurturing, and selling, coupled with his educational background in marketing, gives him a unique perspective to lead the sales team. He is a great asset to assist clients with new product offerings and is specifically suited for this new position to grow the sales team.
"I am so pleased that I will be able to continue to use my previous experience with Deltek ERP to really engage and understand client needs," noted Bryce Crosby. "As Product Sales Manager, I look forward to helping project-based firms find the right tools to streamline their operations."
Bryce will work directly with clients as Product Sales Manager evaluating all of the options available with Full Sail Partners' product offerings. Additionally, he will be working directly with the account management, consulting, custom, and migration teams to ensure clients are getting the most out of their Deltek systems. Bryce will also confer with the Blackbox Connector sales team looking to find the best fit for each prospective client's needs when it comes to integrating third-party software into Deltek Vantagepoint.
"We are thrilled to have Bryce join the Full Sail Partners' team as Product Sales Manager," stated Sarah Gonnella, VP of Marketing & Sales. "It is inspiring to find someone that is amazingly suited for the position we are offering. I'm not sure I could have asked for a better fit. Our team looks forward to using his knowledge and expertise with Deltek ERP to quickly assist project-based firms find the best solutions to grow their organizations."
For more information, please contact Full Sail Partners' Marketing and Communications Department or visit the Full Sail Partners' website at http://www.fullsailpartners.com.