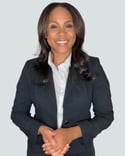 Full Sail Partners is excited to welcome Tasia Grant as Human Resources Consultant. In this position, she will help clients reimagine their HR practices to meet the future human capital management (HCM) needs of the professional services industry. Over the past year, many AEC firms have had to examine new ways to respond to the global pandemic and remote working while simultaneously onboarding a new generation into the workplace. As a result, these professional services firms have had to completely readjust to meet changing HR needs to support those changing ideologies. Therefore, to assist in these endeavors, Full Sail Partners has hired Tasia Grant, PHR due to her extensive HR background in the professional services industry.
"In 2020, AEC firms like many other industries had to quickly readjust their HR processes to accommodate for remote workforce needs. Our firm has been working remote for more than two decades and we believe that focusing on employees and human capital management processes should be a huge focus for firms moving forward. Those that don't make HR a priority at their firm will continue to struggle with finding and keeping great talent," stated Sarah Gonnella. "Having Tasia on our team, we can now help firms strategize and focus on HR best practices. Tasia has both the experience and knowledge to benefit professional services firms of all sizes when it comes to human capital management."
Tasia has a considerable background in Human Resources Management incorporating ten years of AEC industry experience, as well as six years of independent HR consulting. To ensure value to clients, Tasia will be providing comprehensive human resources best practice content and consulting services including change management, conflict resolution, talent acquisition and interviewing, onboarding, mentoring and employee relations, performance and development goals, record management, Equal Employment Opportunity (EEO) management and training/development. Offering such a variety of HCM topics will benefit firms of all sizes and focus areas.
"I am so excited to join Full Sail Partners and use my extensive background in Human Resources to help firms realize their human capital management goals," stated Tasia Grant. "I have a deep understanding of what professional services firms desire regarding HR practices, and I am looking forward to providing them with valuable information to help elevate the industry."
Tasia's diverse HR skillset will be an asset to existing clients who desire consulting and an attractive resource for any new clients interested in improving their HCM processes. As a Human Resources Consultant for Full Sail Partners, Tasia will be the point of contact for firms wishing to explore implementing HR best practices and HCM solutions. She will also be focused on providing blog and HR best practice content to help educate the professional services industry.
For more information, please email Full Sail Partners' Marketing Communications Department.