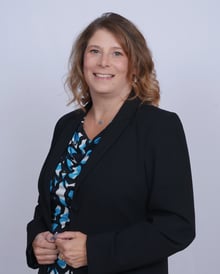 Full Sail Partners, a Deltek Premier Partner, is pleased to announce the addition of Terri Agnew, CPA to the consulting team as a senior consultant. Terri will focus on the core finance functions of Deltek Vantagepoint and Vision which will further expand the consulting service capabilities of Full Sail Partners. Her in depth knowledge about the financial workings of professional services firms will allow her to help clients improve processes and efficiencies.
Terri has been working with Deltek Vision for 15 years with both engineering and architecture (AE) firms. During her tenure, she has served in various roles from senior manager of financial systems, Deltek consultant, to controller at two AE firms. Additionally, she is a certified public accountant and has earned certifications from Deltek as a Vision Certified Accountant and Vision Master Certified Professional.
"I am excited to be part of the Full Sail Partners team and have the ability to collaborate with and learn from a great group of professionals," stated Terri. "They have a vast array of industry and consulting experience, and a primary goal to find the best solutions for our clients."
As a senior consultant, Terri will work directly with clients to evaluate finance processes to ensure that their Deltek Vantagepoint or Vision system is configured to meet the overall needs of the firm. Futhermore, she will work closely with clients to ensure their needs for various custom requirements are correctly conveyed to the Full Sail Partner custom development team. Terri's experiential knowledge of the workings of AE firms and Deltek products will make her a great asset to Full Sail Partners and their clients.
"Terri is an enthusiastic individual that gets excited when faced with a complex challenge," Scott Gailhouse, Consulting Team Manager said. "Her extensive Deltek knowledge and experience as a controller for AE firms are invaluable assets and I am confident our clients will benefit greatly from intuitiveness and problem-solving skills."
For more information, please email Full Sail Partners' Marketing Communications Department. Interested in meeting the rest of the crew? Check out the link below!