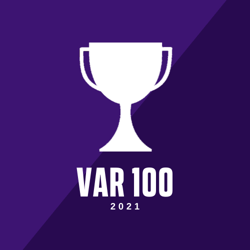 Full Sail Partners has once again been ranked on the VAR 100 list by Accounting Today as one of the leading value-added software resellers in the accounting industry. Each year, Accounting Today selects 100 VARs to acknowledge their accomplishments in the accounting software industry. The top VARs are chosen from firms focused on sales and implementation of accounting and enterprise resource planning (ERP) software. Accounting Today uses criteria such as revenue, number of offices and staff size to generate the list of top VARs. Being distinguished as a top 100 VAR indicates that Accounting Today is overwhelmingly confident with the firm's services and knowledge of business accounting principles and the software required to support operations.
According to Accounting Today, VARs on the 2021 list indicated that much like last year, the necessity of the cloud continued to drive more business. Furthermore, this demand generated the need to hire more staff to keep up with the demand of cloud implementations. Additionally, cloud implementations led the way to more business with companies needing assistance with data analytics and forecasting capabilities.
"Full Sail Partners is once again thrilled to be part of Accounting Today's 2021 Top VAR 100 list," stated Sarah Gonnella, VP of Marketing and Sales at Full Sail Partners. She continued, "With the unprecedented demand for the cloud, we had to add key team members to our staff to ensure we were able to meet our clients' growing needs, which included an extraordinary demand for our Blackbox Connector for Informer. The Informer integration provides our clients with unparalleled business intelligence and analytical capabilities that have never been available to Deltek Vantagepoint/Vision users."
Accounting Today is a leading provider of online business news for the accounting community, offering breaking news, in-depth features, and a host of resources and services. The VAR 100 list is an annual report developed to rank the top technology resellers in the accounting and ERP spaces.
For more information, please email Full Sail Partners' Marketing Communications Department.