Have Your Cake and Eat It Too with the Blackbox Connector for Informer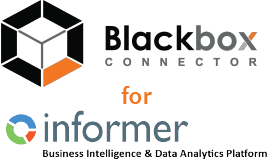 Is your firm drowning in ad-hoc reports? Stop the madness! Join this webinar to learn about a new business intelligence (BI) tool called Informer and see how to make your Deltek data pop! Our Blackbox Connector development team has developed a much needed integration bringing BI and Deltek data together. During this presentation, we will demonstrate:
Why we chose Informer
Why Informer is superior to other BI tools
How your firm can put data into the right hands
Dashboard examples for all roles across the firm
You won't want to miss this presentation to learn how the Blackbox Connector for Informer is changing the way professional services firms are using their data.
Presenters:
Sarah Gonnella, VP of Marketing & Sales
Wendy Gustafson, General Manager