Reporting & Business Intelligence Solution for All Deltek Users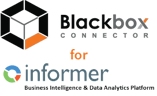 No longer should visuals and intelligence be exclusively for executives. In a project-based business, every employee needs to understand how they impact the company. Enter stage left…the Blackbox Connector for Informer, connecting your Deltek data to bring business intelligence (BI) to every business user.
With Informer, employees now have the ability to view and explore data in ways you never thought were possible by connecting to your Deltek Vision or Vantagepoint system. During this presentation, we will discuss the benefits of connecting Informer to your Deltek data and do a live presentation of the product. Your ticket admission is free and on-demand, register today.
Speakers:
Sarah Gonnella, VP of Marketing & Sales at Full Sail Partners
Wendy Gustafson, General Manager at Full Sail Partners