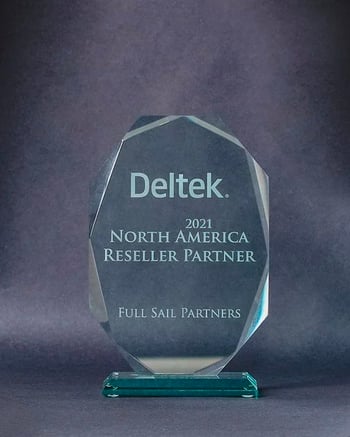 Full Sail Partners is pleased to announce that it has been selected once again by Deltek as the North America Reseller Partner of the Year for 2021. Receipt of this award for another year only confirms Full Sail Partners' distinction of being a leading Deltek Partner providing software and solutions designed specifically for project-based businesses. Our team always strives to exemplify professionalism with a high level of integrity and commitment to our clients to get the most out of their Deltek solutions.

Of utmost importance to Full Sail Partners has always been to ensure our clients feel that they are being listened to and are having their needs understood. Recently, Full Sail Partners has teamed up with Deltek in a joint outreach campaign to assess client needs and offer the best resources especially as many make the move to Deltek Vantagepoint. This collaboration with Deltek gives clients the chance to be heard from both sides and have access to the best resources available to them.
"Our approach at Full Sail Partners when speaking with clients has been to try to understand their needs and how to help them. Our collaboration with Deltek lets clients really feel the love and has been a win-win for both of our teams," stated Sarah Gonnella, VP of Sales and Marketing. "In the end, we want to be a trusted resource for our clients, one that they can come back to again and again."
"Full Sail Partners' expertise of Deltek product offerings, their ability to implement, and deep knowledge and experience in our core architecture, engineering, and professional market segments is what positions them as a leader in business solutions and application hosting said Michael Hines, VP of Global Partners and Alliances at Deltek. "Full Sail Partners' meticulous attention to detail ensures Customer Satisfaction which is Deltek's top priority. We are fortunate to have such a strong partner as Full Sail Partners in the Deltek ecosystem."
For more information, please contact Full Sail Partners' Marketing and Communications Department.