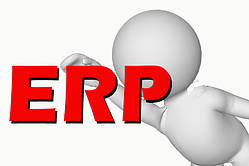 Project based ERP. You're probably wondering to yourself, "what is this anyway?" We've all heard of Enterprise Resource Planning (ERP) systems, but now the industry added the words "project based." It probably feels like they are just layering more words … and difficulty. So let me make some sense out of this for you.
Project Based ERP Straight Talk
Traditionally, ERP's have primarily been associated with companies manufacturing products: a key factor in ERP is the merging of IT, HR, Finance, and Marketing data with product operations and inventory management.
In services firms and consulting businesses like yours, however, some alterations must be made for the ERP system to show the data they need to achieve their goal – high profit and high revenue in a skills based environment – hence the addition of "project based" to our discussion about ERP systems. Your services business deals with a model where intellectual property is what you produce. You don't have the evils of shelf life, production lines, or parts departments. Instead, your lives are geared toward a consistent evaluation of process, of skill, and of running the perfect project.
Get Down to Business
Project based firms are exceedingly good at running projects. They can create a GANNT chart that's a thing of beauty, they can set achievable deliverables, and they meet or exceed every deadline. But finding an ERP system that's attuned especially to services and not manufacturing – now that's tougher. It takes dedication, knowledge and the focused energy of the right team to get it all together.
An ERP Consultant whose job is to master-mind all the necessary pieces to banish redundant, useless old processes and make your project's business goals a realty.

A Project Manager focused solely on gathering and maneuvering all the professionals to make achieving your project goals a success.

Your IT, HR, Marketing/Sales, Finance as the true heroes to making things happen.
So What Are You Going To Get Out Of It?
I know, I know. "It's expensive to add new software." "It's a lot of work and we're already pretty busy." I've heard this and more. But let me tell you – you can't afford NOT to add a project based ERP system! The table below details those differences:

Brass Tacks
Still need more? Here's the slam-dunk. According to "Managing Your Consulting Firm for Growth," an IDC Info-doc, ERP systems built from the ground up with projects as a core process give firms the tools to make the most effective decisions in these critical areas:
• Lifecycle process across customers, projects and employees.
• Details on projects that help optimize profitability and lower risks.
• Manage and optimize an integrated portfolio of services – using data to learn how to do more of what "works" and eliminate what isn't "working" (i.e. what's not profitable).
• Find the "right" customers and have the data to eliminate unprofitable customers.
• Manage the future by understanding the past and using data to make fast, accurate course corrections.
A project based ERP system will combine the
strengths of Marketing/Sales, IT, HR, Finance together with
project management software to help eliminate project waste.
Bottom Line
Your dedicated employees joined with the support of organizations like Full Sail Partners, Inc. will make your project based firm as successful as possible by using your greatest resource – a specifically designed project based ERP system. And while it's rad here in California to just "ride the waves," when it comes to running your project based firm, using a project based ERP is your best choice. Dude.