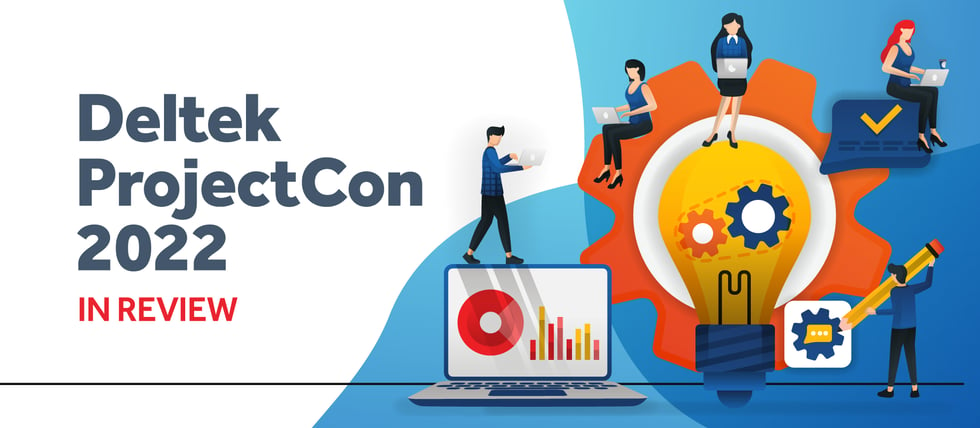 This year's Deltek ProjectCon, formerly known as Insight, was a successful return to an in-person conference after two years of being virtual. With great anticipation, Deltek users converged in Nashville at the Gaylord Opryland November 15-17th. Choosing from over 390 sessions across 11 tracks, all Deltek users were able to discover many tips and identify actionable items to help their firms maximize business performance and revenue while also figuring out how to use their Deltek solutions in innovative ways.
Deltek Vantagepoint and Vision users had the opportunity to learn all about the latest product enhancements as well as network with peers during the various educational sessions offered. The sessions that Full Sail Partners' team members attended varied from finance to resource planning to marketing and business development. Also, seven experts from Full Sail Partners presented at a few sessions this year. Here is a recap of some of the exciting things that were taken away from ProjectCon 2022.
Single Source of Truth Between Deltek Vantagepoint and ADP
Full Sail Partners' very own Rick Childs, Principal Consultant, Jennifer Wilson, SQL Developer, and Scott Seal, VP of Consulting, shared details on the newest Blackbox Connector offering at ProjectCon. Attendees here learned how Deltek Vantagepoint and ADP could work together to enhance the payroll experience. They saw how this new Blackbox Connector securely and seamlessly integrates the ADP platform with Vantagepoint and how the Vantagepoint Payroll Interface allows firms to efficiently move Vantagepoint project hours to ADP payroll hours based on business rules. Furthermore, attendees discovered that employee data can now be integrated between ADP Workforce Now and Vantagepoint with a single point of entry upon the employee hiring process.
From this session, attendees took away the following:
Understood approaches between Deltek Vantagepoint and ADP Workforce Now for employee PTO accruals and PTO requests & approvals

Found out how to automatically provision a Vantagepoint User ID & Role based on a hiring event in ADP Workforce Now

Saw how a GL Payroll Distribution Journal Entry seamlessly returns to Vantagepoint as a reviewable and postable file
New and Improved Deltek Vantagepoint Accounting Features to Automate Business
Here, Terri Agnew, Principal Consultant, and Theresa DePew, Senior Consultant, with the Full Sail Partners' team reviewed ways to use Vantagepoint to automate accounting departments at project-based firms. Attendees familiarized themselves with improved features in Vantagepoint and discovered the latest and greatest features including approvals, billing, AR, reporting, and dashboard features. Moreover, having spent more than 1,000 hours helping more than 100 companies upgrade from Vision to Vantagepoint, these two consultants provided expert advice to those financial teams in attendance.
Create a More Collaborative and Efficient Team with Deltek Vantagepoint
In a third presentation by members of the Full Sail Partners' team, Amanda Roussel, Senior Consultant, and Rana Blair, Principal Consultant, helped to show ProjectCon attendees how to create a more collaborative and efficient team environment with Deltek Vantagepoint using one firm's story. Professional services firms strive to efficiently manage project lifecycles and attendees here got to see how one firm created a more cohesive and streamlined method for operating their project-based business.
JCJ Architecture took attendees on a journey through their new project lifecycle and saw how their team reimagined their processes from pursuit identification to final project execution, resulting in a more collaborative team environment. Having better data provided better analysis, which resulted in better decision-making. Attendees furthermore discovered ways to bring teams together and gain knowledge about the visibility Vantagepoint brings.
Better Vantagepoint CRM and Business Development Dashboards
Amanda Roussel, a Full Sail Partners' Senior Consultant, found a lot of value in this session. She learned tips for marketing and business development leaders to use and adjust CRM dashboards in Deltek Vantagepoint. Pre-defined dashboards for CRM provide insights for active pursuits, previous quarter pursuits and other significant CRM data. To discover more, simply make minor adjustments.
Attendees explored additional configuration options like calculated and user-defined fields and workflows, so data is captured and used to chart historical trends for key business development metrics. No more need for Excel! Amanda additionally felt that the session did a great job of teaching how to focus on filters and confirmed the best practice of always copying a dashboard/part before editing. Furthermore, Amanda felt that attendees gained great insight into tracking stage changes.
CRM and Business Development Dashboards
Amanda Roussel, Senior Consultant, also attended this session which reminded attendees that most business development activity happens outside of the office. With Deltek Vantagepoint CRM, business development activities can be managed from wherever. Attendees of this session learned how Vantagepoint Connect for Outlook or Gmail and Mobile CRM help nurture client relationships, firms remain competitive, and ensure that the right projects are being managed while on the road. Moreover, attendees reviewed the critical tools for business development and tips to best leverage those tools to maximize marketing and BD efforts. Amanda noted that most of the session focused on Outlook which showcased its fluid functionality with the bidirectional sync with Outlook and Vantagepoint.
What's New and Coming in Financial Management
Theresa DePew, Senior Consultant with Full Sail Partners, attended this session. Here attendees learned exciting enhancements focused on improving the experience of the finance team. This included ways to streamline the current billing process with the use of email templates as well as having further support for the billing client changing over the life of the project. Finance teams can also improve the collection process with AR dashboards and can automate manual processes with automatic bank feed.
Attendees at this session:
Were able to identify new features and enhancements for more efficient financial management in Deltek Vantagepoint 4.5, 5.0 and 5.5 2

Saw a sneak peek of upcoming releases

Understood how to prepare and take advantage of the best features for the finance team
Resource Management and Planning – It's Not Just for Staffing
For those interested in Deltek Vantagepoint Resource Planning, this session was a great opportunity to hear another firm's story with using it. Attendees here learned about Kahler Slater's 14-year experience having implemented Resource Planning in 2008. The firm uses it for staffing, but it is also an integral part of the firm's culture and processes. The firm's process begins with a plan for nearly every project with all staff having access to resource management. This empowers teams to better manage resource allocation. To ensure project resource needs are managed, project managers and staffing advocates meet weekly. Using a staffing advocate bridges the requirements of staff career development, passion, and wellness with the needs of a project. Immediately after creating a plan, firm leaders access staffing, revenue forecasting and project probability which helps to ensure project success.
Key takeaways for attendees at this session:
Pinpointed how to identify the right personnel to work toward achieving firm objectives

Discovered how to create more accurate revenue recognition

Learned how to maintain and produce a backlog through revenue forecast
Save the Date for ProjectCon 2023
With all that Deltek users learned at the conference this year, 2023 should continue to be a stellar year for project-based firms. Deltek has already announced dates for next year's ProjectCon which will be in Orlando, October 16-19, 2023, at the Gaylord Palms. Don't forget to mark your calendars!