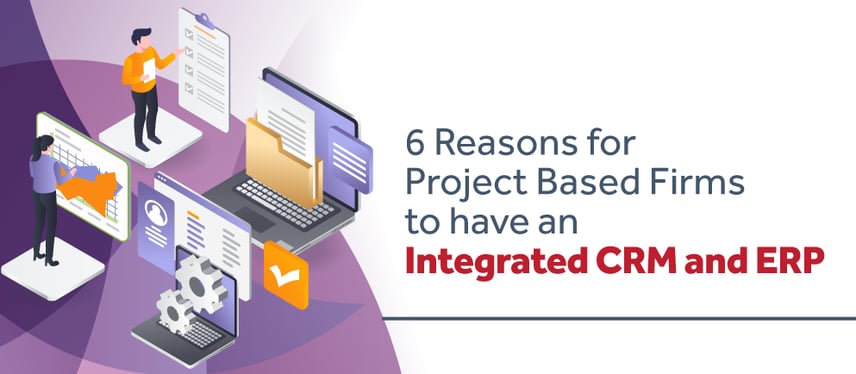 For many years, project-based firms have utilized multiple technology platforms to track different pieces of crucial information. Perhaps human resources, finance, marketing, and project managers all have been using a separate platform at the same firm. How does information flow? Is it a manual process, are the systems integrated, or does everything stay siloed? There are numerous benefits to housing enterprise resource planning (ERP) and client relationship management (CRM) information in ONE accessible platform. Here in this blog, let's check out 6 reasons for project-based firms to have an integrated CRM and ERP.
#1 Simplify, Streamline, and Save
We all want to streamline relevant business and project-based matters where we can, right? Having all CRM and ERP data in one platform, the information only needs to be entered once. ONE TIME. The data entry point can vary from browser to app, to Outlook, or to another platform, but it ultimately only gets typed in once. When integrating CRM and ERP, gone are the days of having to search through multitudes of emails to find out who last spoke to the pertinent client to get important details.
Additionally, having ERP and CRM systems together as one may be a cost savings as well. There's no additional hosting, no, or less, integrations to manage, and no additional platform to learn, maintain, and train on. This is a prime example of the concept that "less is more."
#2 Find the Latest Information with Less Noise
Just think of employee-client interactions and the information that is gathered as a firm resource. Business resources, especially for project-based firms, are meant to be shared efficiently, and that information should be available when others need it. Furthermore, new information is constantly coming in and a CRM tool provides your teams a platform to document and share this information, keeping everyone informed. With one clear space to keep this information organized, you can expect fewer logins, fewer emails, and less noise. Moreover, if CRM data is captured timely and correctly, it takes significantly less time to research the latest communications with clients. This activity tracking can help keep pursuits and projects on track.
#3 Increased Collaboration
Roles within a project-based firm sometimes have a defined description, and oftentimes the same information can be significant to different roles within the business. Whether it's key performance indicators (KPIs), pipeline reports, win rates, resume information, or contact lists, having ERP and CRM data in one place promotes collaboration between departments. This is especially true with human resources, finance, and marketing groups. This sharing of data located in one place allows understanding of other areas of the company, thereby creating a healthier collaborative environment firm-wide.
#4 Transparency Allows for Productivity
Executives, managers, leaders, and even staff, in project-based firms, want to know what work may be coming up. While they all may have their specific reasons for this knowledge, they shouldn't have to rely on someone else to distribute the information that they are looking for when they need it for their own purposes. Transparency can keep employees at all levels informed and therefore productive. And why not allow them to see this information on the platform in which they are already working?
Whether it's timesheets or project records, most employees are in their firm's ERP daily and should be able to quickly access what information they desire in one place. Employees should have the ability to see the big picture as well as drill down to their specific information.
Take for example, that according to the 44th Annual Deltek Clarity A&E Industry Study, win rates were strong among A&E firms, but there was a decline in the number of proposals submitted. Having the visibility of win rates certainly allows for a stronger Go/No-go process, which allows project-based firms to be selective, and effective, in the work they pursue.
#5 Use Accountability to Create Consistency 
With transparency comes accountability. Principals, seller-doers, and business developers with project-based firms should be held accountable for keeping their colleagues informed. Winning work is imperative for project-based firms, and communications and pursuits are firm resources. For this to be successful, however, there needs to be support and enforcement from all levels of leadership. With an integrated CRM and ERP, information about upcoming pursuits or projects flows freely and everyone can be held accountable. Consistency is crucial to success.
#6 Leap Toward Digital Maturity
Another finding in the 44th Deltek Clarity Study is that more than 82% of A&E firms anticipate being "advanced" or "digitally mature" in the next five years. Strategic technological improvements are a big focus for both project management and financial management. Is your project-based firm part of this trend? Having CRM and ERP woven together is certainly a step toward digital maturity.
Now is the Time to Integrate Your CRM and ERP
These six compelling reasons clearly show the value of integrating your CRM and ERP into one system. You'd agree that every project-based firm would benefit from cost savings and increased collaboration firm-wide among other benefits. Is your firm ready to make the move? If so, one of our CRM consultants would be happy to discuss it with you!