For professional services firms, IT departments seem to have limited resources with one or a few people managing the entire technology infrastructure for the firm. This is a lot of work and can be very stressful for the IT person or team. However, you can alleviate a major burden for the IT department if your firm has a purpose-built ERP solution to support all of your business functions.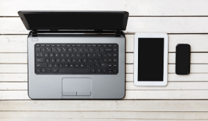 Deltek Vantagepoint offers a robust, comprehensive system that has been specifically designed for project-based firms. The Vantagepoint solution provides flexibility, scalability, and accessibility to everyone at any time and from anywhere. With Vantagepoint, several of the common burdens IT departments face can easily be eliminated. Here are some of the ways IT departments benefit from Vantagepoint.
Robust Modern Architecture
Having a robust IT infrastructure ensures information can easily flow between all the systems that support a business. Deltek Vantagepoint is one of the most modern, feature-rich, and high performing systems being deployed for project-based firms. With Vantagepoint, IT can rest assured that every department will have access to what they need when they need it. With ease of use for all users, the work of the IT department will be greatly simplified, and priorities can be reevaluated and reestablished.
Scalable Framework
IT departments are quite experienced with sudden personnel changes and growth due to mergers and acquisitions. They are also keenly aware of the importance of having a system that can grow with the firm. Deltek Vantagepoint is a solution with an evolving and scalable framework. No matter the ebb and flow of users, IT will be able to accommodate technology needs appropriately with this flexible, fully integrated system.
Cloud Flexibility
Cloud technology does more than allow for real-time access of data and systems which supports a more mobile workforce. Leveraging the cloud also reduces the burden on the IT department and decreases overall business costs while ensuring reliability. With the cloud, hot fixes, patches and other upgrades are performed seamlessly and uptime is essentially ensured. Solutions like Full Sail Partners' Blackbox Connector, which fully integrates Deltek Vantagepoint and other third-party software, are also provided in the cloud.
Be More Strategic with Deltek Vantagepoint
With Deltek Vantagepoint in place, IT departments at project-based firms will have the chance to focus on the future and strategically plan technology resources accordingly. With easy user adoption and a scalable framework, IT can make well informed technology decisions rather than having to constantly put out fires. Additionally, with reliable cloud offerings and Blackbox Connectors in play, there will be more efficient business processes and reduced downtime increasing productivity.