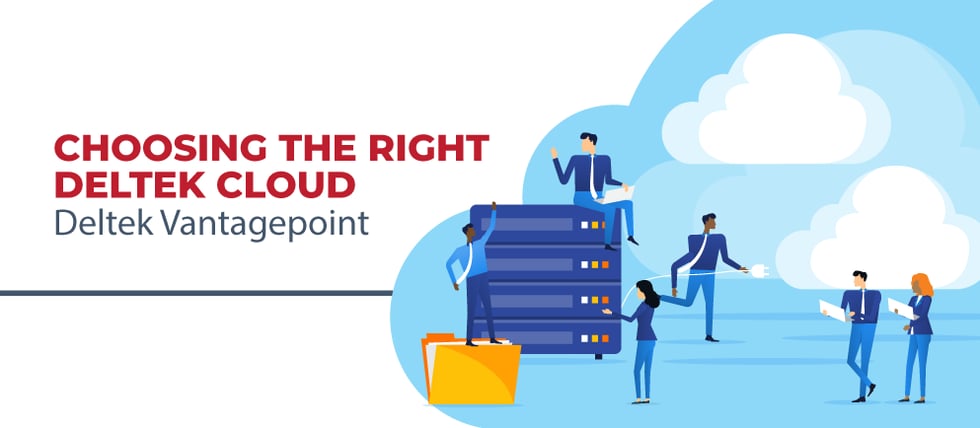 For over a decade now, Deltek has been offering its ERP applications in the cloud. In fact, at this point, a majority of Vision and Vantagepoint clients have opted to move their software to a cloud-based deployment, also known as Software-as-a-Service (SaaS). For good reason- it provides a variety of important benefits that most modern companies can't live without:
Anytime, anywhere, secure access
Always on the latest versions of the software
Deltek managed data backups &
best-of-breed data security
Backed by Amazon Web Services (AWS)


As an increasing number of firms move their operations to the cloud, it's important to understand the different levels of cloud service available. Deltek offers three cloud-level options: Standard Cloud, Flex Cloud, and Enterprise Cloud. All offerings provide the same data security protocols, deliver API access, SQL stored procedures, and the ability to set up a sandbox environment. However, each progressive tier features enhanced levels of control, flexibility, and access to your Deltek database. As you'll see, regardless of your size and complexity, there's a cloud level that's tailored to your needs.
Standard Cloud
A majority of Deltek clients are in the standard cloud. It provides all of the perks mentioned in the checklist above. It's a turn-key SaaS deployment option. As mentioned, all cloud tiers, including standard, provide API access, accommodation of SQL stored procedures, and a sandbox environment. There are also convenient options for data import and export using the 'front-end' of the system, via import utilities. This will make more sense as we get into the two elevated tiers below, which include increased flexibility for more robust data access and improved ability to support certain external product integrations.
Note that with standard cloud, you have the ability to add Custom SQL reports without actually needing to upgrade to Flex, via the 'Custom report add-on' option.
Flex Cloud
Deltek Flex Cloud introduces a handful of important benefits as compared to the standard cloud. A primary example is ODBC Read-Only access. Meaning, you can establish a secure, read-only, direct connection to your Deltek database. You may hear this being referred to as accessing the 'back-end' of your Deltek system. This capability can provide benefits such as enhanced flexibility to integrate with 3rd party tools if for any reason APIs aren't the right solution for you. Flex Cloud also offers a preview environment before upgrades and increased options around associated upgrade timing.
Enterprise Cloud
The Deltek Enterprise cloud is the top-tier option for firms looking for extensive control and access to their SaaS database. Typically, this is for those clients seeking to preserve certain aspects of an on-premise-like experience, but who want to avoid the downsides of hosting the system in their own internal environments. Building upon what is available in Flex Cloud, Enterprise cloud allows for additional options, including ODBC Write Access (the ability to not only read/pull data but also to write back to the database via that ODBC direct connection). Furthermore, the ability to accommodate more custom development, including SQL Custom Triggers, Tables, Views, and Indexes. Enterprise Cloud also unlocks the ability to have Test & Development SaaS environments, which is not an option with the two previous tiers.
The grid below helps to provide a more visual summary:

Need help understanding any of the terms above?
API Access: API stands for Application Programming Interface. Simply put, API is a way for different software programs to communicate with one another. Within the Deltek context, it means that external programs can connect to your Deltek API-enabled ERP system. This can include purposes like retrieving project data, updating financial information, or creating new records.
SQL Stored Procedures: SQL script that can be stored and executed in your Deltek database. Stored procedures can be used to assemble and complete specific tasks, including greater flexibility to update information across multiple hubs/info centers.
Custom SQL Reports: a report that is created using SQL queries. Custom reports are used to retrieve specific data from your Deltek database, including the ability to search across multiple hubs/info centers and assemble the data in a single formatted report.
ODBC Access: ODBC (Open Database Connectivity) is a way for different software programs (such as Excel, Access, or Business Intelligence tools) to communicate with your Deltek database using a standardized interface. You can establish a secure connection to your database in either a read-only format (allowing a program to only consume/retrieve data) or also the ability to provide write access (allowing the program to make changes to Deltek- such as adding new records, updating existing, or deleting records).
Assistance with Choosing the Right Cloud Level
In summary, choosing the right cloud level for your firm depends on your specific needs and goals. While the standard cloud does work for many, others may require the increased control and flexibility offered by the Flex Cloud. For those who need even more access to their data among other requirements as described above, the Enterprise Cloud may be the best choice.
If your organization is considering a move to the Deltek cloud, Full Sail Partners is here to guide and help you understand these options further. A good starting point is to fill out this brief questionnaire which allows us to assess your cloud compatibility among other important initial topics to consider. If you are already in the Deltek Cloud but want to consider upgrading your cloud level, that is of course an option too.