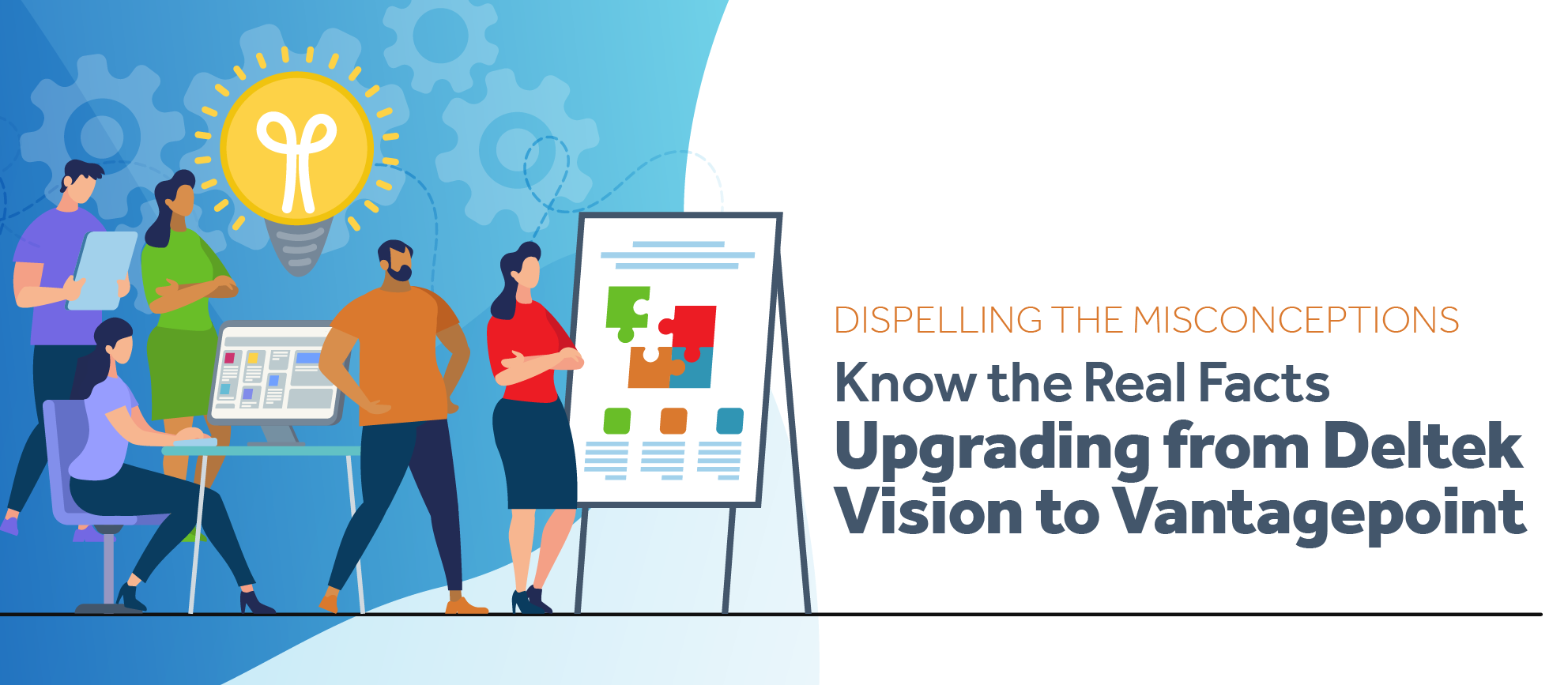 As a Deltek representative, we have heard all kinds of misconceptions about Deltek Vantagepoint. Despite our monthly newsletters, webinar series, and continued communication, we are still speaking to firms that are confused or have been advised incorrect information about transitioning from Vision to Vantagepoint. Most are honest mistakes conveyed by all kinds of people. However, many of these "untruths" come from competitors spreading incorrect rumors so they can take advantage of your firm and convince you to leave Deltek.
We need your help! Please send this blog to everyone at your firm. Share it with user groups you are involved with and other firms that you know use Deltek Vision. Below are the real facts about upgrading from Deltek Vision to Deltek Vantagepoint. Please help us to dispel the misconceptions.
What is Deltek Vantagepoint?
Deltek's reimagined flagship project-based solution, the next version of Deltek Vision for architects, engineers, and other professional services businesses.
Designed to help you manage the entire project lifecycle better than before.
Based on feedback from Deltek customers over the past 10 years.
An intuitive, powerful solution that puts your people and projects at the center of your business so you can be more efficient, productive, and profitable.
For executives or employees wanting to view the upcoming changes, we recommend checking out our hour-long monthly Deltek Vantagepoint demonstration. Additionally, our team has put together tons of resources to help firms including our Deltek Vantagepoint mini demonstrations. In each of these demos, viewers will see how Deltek Vantagepoint empowers the different roles within your firm. Each demo goes into detail on a specific feature of Vantagepoint, with each video being 4-20 minutes long.
Dispelling the Misconceptions about Deltek Vantagepoint
Q: Is Deltek Vantagepoint a new product?
A: It is a continuation of the Vision product. Think Vision 10!
Q: Will our firm need to repurchase to move to Deltek Vantagepoint?
A: No! If you are current on maintenance, it is free. This does not mean upgrading to Vantagepoint should be done without a strategic plan in mind.
Q: How long will Deltek Vision continue to be supported?
A: The short answer is Deltek hasn't set a date.
The long answer is that under the Deltek Support Assurance program, Deltek provides three distinct phases and levels of support: Active, Maintenance, and Sustaining. Even when the product moves to Maintenance and Sustaining Support, your firm is still supported and will have plenty of time to upgrade. The product is currently under Active Support, which means that software enhancements, hot fixes and service packs are supported. Maintenance Support still receives hot fixes for severity 1 issues and tax, legal and regulatory updates and lasts 12 months. Sustaining Support is where you still have access to all of the pervious fixes and service packs. Additionally, Deltek has stated they will give us at least a year's notice before moving it to Maintenance Support. So, that provides your firm plenty of time.

Q: To get Deltek Vantagepoint, do I have to move to the cloud?
A: No! However, it might make sense, so reach out to your account manager if you are interested.
Q: Will Deltek Vantagepoint be available on-premise?
A: Yes!
Q: Will Deltek Vantagepoint require me to migrate my data?
A: No! Your data will move over. There are considerations due to the way that Vantagepoint handles data differently than Vision, especially if you have repurposed any info centers. 
Q: Will all of my user-defined fields and user-defined info centers move over?
A: Yes!
Q: Will Vantagepoint contain the exact functionality as Vision 7.6?
A: No. The product is being reimagined and improved. There are certain areas that will not move forward. Please read on for more details.
Q: Can my firm request to upgrade to Deltek Vantagepoint and move next week?
A: We do not recommend that. There are considerations that need to be made. We highly recommend starting with reviewing Deltek and Full Sail Partners' resources and requesting a Vantagepoint Upgrade Consultation.
What Are My Options for Getting a Vantagepoint Test Environment?
For firms that are seeking to obtain a Vantagepoint test environment, the answer to this question depends on your current deployment method. Below are the options:
My firm is hosted by Deltek Cloud or On-Premise: Visit the Vantagepoint Upgrade Resources page on the Deltek website, and scroll about three-quarters of the way down the page to the "Get Preview Environment" section of the page.
My firm is hosted by Full Sail Partners: If your firm is hosted by Full Sail Partners, email your Account Manager or hosting@fullsailpartners.com.
My firm is hosted by an external hosting provider: If your firm is hosted by an external hosting provider, request that your provider set up a test environment. If they have not set up a Vantagepoint environment before, then we recommend you reach out to Full Sail Partners or your partner of record. It might make sense to consider moving to Deltek's cloud, hosting permanently with Full Sail Partners, or utilizing Full Sail Partners' transition hosting service. Contact us if you are interested in any of these options.
Keep in mind, the upgrade to Deltek Vantagepoint requires a new install and has new installment requirements. For on-premise clients, please check out our past webinar: Is Your Firm Technically Prepared for Deltek Vantagepoint?
Who Do I Contact?
If your firm is seeking assistance with upgrading to Vantagepoint, our team is here to help. Request a Vantagepoint Upgrade Consultation. Additionally, here are other resources to know.    
Deltek Vantagepoint Resources Page: Please click here to check it out, and to clarify some distinct areas on this page, please read below:
What is the Customer Assistance Program (CAP)?
CAP is focused on helping Vision customers prepare for their upgrade to Vantagepoint. This is a complementary program for Deltek Vision customers. It runs for eight weeks, and you can have as many people as you want from your company participate. This program will cover specific upgrade topics and best practices. You will also be able to join live sessions with the experts to ask questions. You can register here for any of the sessions. The next sessions from Deltek in 2023 will be session 14 starting January 25, 2023, and session 15 starting April 19, 2023.
What is the Vantagepoint Readiness Portal?
The Vantagepoint Readiness Portal is your go-to resource for all things Vantagepoint. This portal includes videos, demonstrations, and presentations by Deltek experts to give you a perspective of how things have changed from Vision to Vantagepoint. This is the first step on your journey toward understanding Vantagepoint. There are also resources specifically for administrators including details about preview environments. The Portal has info about CAP too. To access the portal, just follow these simple steps:
Log into the Deltek Learning Zone (DLZ) platform with your DLZ account credentials.

On the opening Dashboard screen, use the "Enter Search keyword" feature to search for the "Readiness Portal."

The "Deltek Vantagepoint Readiness Portal" will come up as the top result for all Vision and Vantagepoint product users, and you can simply click to enroll and launch the portal.

Once enrolled, you can access the portal at any time from your personal Learning Profile where it will appear on your "Courses" list.
Deltek Vantagepoint Resources
Make sure to check out our webinar series about preparing for the upgrade to Deltek Vantagepoint. In this series, our team of consultants covers a variety of topics such as technical requirements, resource planning, and project management, new CRM functions, and the improved accounting interface. This webinar series page also includes demonstrations of Deltek Vantagepoint. If you prefer to read about the enhancements, check out all the articles we have posted about the enhancements Vantagepoint offers to firms that upgrade from Vision!