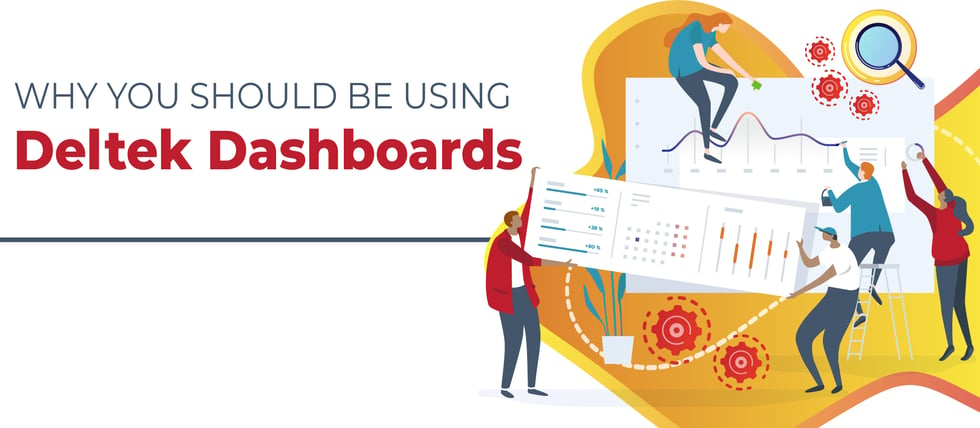 Are you making the most of your time and resources? Well, let me tell you about something that can really give you a boost—Deltek Vantagepoint Dashboards! Dashboards are like the superheroes of your system, but unfortunately, they often go unnoticed and underutilized. They're made up of dashparts, or widgets, which act as your gateway into the magnificent world of your Deltek system. If you're using Deltek Vantagepoint, you're in for a treat because these dashparts are incredibly diverse, offering reports, metrics, links, alerts, tips, and so much more!
Major Benefits of Deltek Dashboards
Now, let's dive into these major benefits of Vantagepoint Dashboards that will revolutionize the way you work.
Instant Access to Information
Imagine waking up in the morning, opening your system, and boom! You're greeted with a dashboard that presents you with all the essential information you need for the day. Daily reports, task reminders, and alerts that require your attention are all neatly displayed, tailored to your specific role. It's like having a personal assistant who ensures you stay on track and meet your goals and objectives. Who wouldn't want that?
Say Goodbye to Repetitive Navigation
We've all been there—endlessly clicking through the navigation panel to find the data we need. It's a time-consuming and monotonous task that can drain your productivity. But fear not! Vantagepoint Dashboards are here to rescue you from this clicking madness. By utilizing dashboard components, you can create shortcuts to reports, URLs, records, and more, reducing your clicks to just one or two. That extra time saved allows you to focus on the things that truly matter in your work. It's like having your own teleportation device, whisking you away to the exact information you need with a single click!
View Role-Specific Data
We all have unique roles within our firms, and Vantagepoint Dashboards understand that. You can customize your dashboards to focus on the specific data that are relevant to your role. But wait, there's more! Deltek also offers predefined dashboard configurations that can be pushed out to you based on your role. So, if you're a project manager, you can have project budgeting, billing information, and accounts receivable invoicing right at your fingertips. With role-specific data, Deltek Vantagepoint Dashboards equip you with the tools necessary to excel in your job. It's like having a personalized command center that caters to your every need.
Enhanced Data Visualization
Deltek Vantagepoint Dashboards are designed to present complex data in a visually appealing and easy-to-understand format. By utilizing charts, graphs, and other visual elements, these dashboards transform raw data into meaningful insights. You can quickly grasp trends, spot anomalies, and make informed decisions without getting lost in a sea of numbers.
Real-Time Updates
Stay on top of your game with real-time updates provided by Vantagepoint Dashboards. No more waiting for manual reports or struggling with outdated information. Dashboards pull data directly from your database, ensuring that you have the most up-to-date information at your fingertips. This real-time access enables you to respond swiftly to changes, address issues promptly, and make agile business decisions.
Collaboration and Transparency
Vantagepoint Dashboards promote collaboration and transparency within your organization. You can share dashboards with team members, enabling everyone to access the same data and metrics. This fosters better communication, alignment, and teamwork across departments. Whether it's sharing project progress, financial metrics, or sales performance, dashboards facilitate a unified understanding of your firm's goals and progress.
Customizable and Flexible
Vantagepoint Dashboards offer a high degree of customization and flexibility. You can tailor your dashboards to suit your specific needs, preferences, and roles within the organization. Choose the metrics that matter most to you, arrange them in a way that makes sense, and create a personalized view of your data. This flexibility ensures that you have a dashboard that perfectly aligns with your workflow and helps you focus on what's important.
Improved Efficiency and Productivity
By centralizing relevant information and providing quick access to key metrics, Vantagepoint Dashboards significantly improve efficiency and productivity. Instead of spending time searching for data or generating reports manually, you can focus on analyzing insights, identifying areas for improvement, and taking proactive actions. Dashboards streamline your workflow, eliminate unnecessary steps, and allow you to work smarter, not harder.
Now that you've witnessed the awesomeness of Deltek Dashboards, it's time to harness their power and boost your productivity to new heights. Regardless of your role, these dashboards offer benefits that can supercharge your workday. From instant data access to time-saving navigation and role-based setups, there's something for everyone. So, don't wait any longer—unleash the full potential of dashboards at your firm!
Experience the Power of Deltek Vantagepoint Dashboards: Watch the Recap of Dashboard-Palooza's Electrifying Acts!
Did you miss out on the electrifying events of the year? Don't worry! We've got you covered. Dashboard-Palooza was a roaring success, providing attendees with valuable insights and actionable takeaways. It showcased the true power of Deltek Vantagepoint Dashboards, empowering collaboration, and efficiency for A&E firms. Whether you're a project manager, a finance or project accounting wizard, or a sales and marketing maestro, these dashboards are designed to help you thrive in your respective domains. Watch all of the Dashboard-Palooza acts by clicking the image below.